You can do Stock-taking at Jubelio easily. The trick is to import the data via excel, whose template has been provided.
But to avoid data discrepancies in the results of the stocktaking, make sure you pay attention to the following points: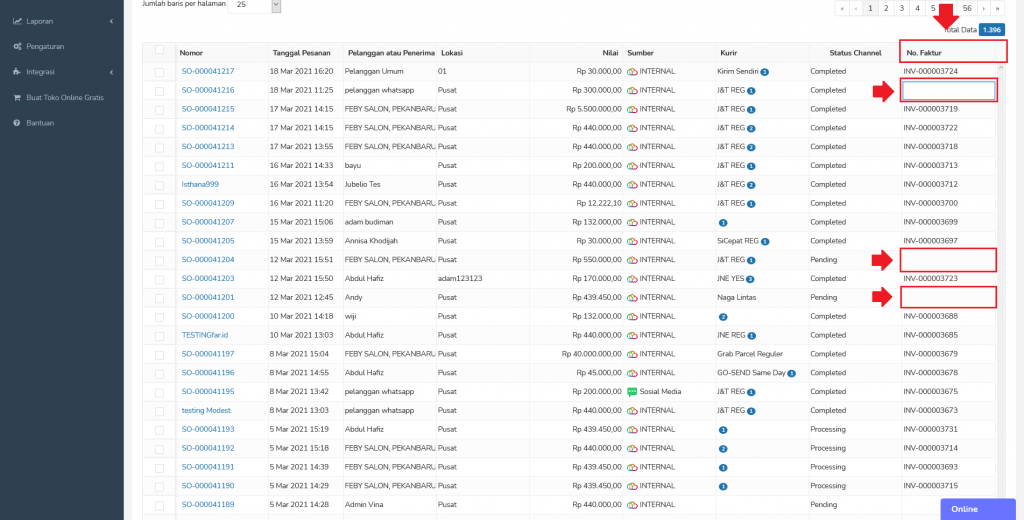 When you have finished shipping the order to the buyer, you can issue an invoice to complete the order. The processed orders often have been sent to the buyer without going through the issuance of an invoice.
Even though the order has been processed and received by the buyer, Jubelio still considers the stock of the ordered goods has not been reduced.
This means that the stock of the ordered item is still in On Order status. This is because invoices for these orders and goods have not been issued. So the stock status has not been changed by the system.
Therefore, look again at the Siap Kirim, Sudah Dikirim, and Selesai tabs in the Pesanan menu, to recheck orders that have been processed.
The easy way, double click on No. Invoice column to sort data by the orders that does not yet have an invoice  in Jubelio
Jubelio recommends you to use the Final Stock Template when doing stock taking. This is to simplify the stock taking process, because you only need to enter the final calculation results from the stock of goods in the warehouse.
This is because, the final stock template will be recognized as the final stock number by Jubelio. So you don't need to make any further adjustments when the stock taking data has been uploaded.

Before uploading stock data to Jubelio, make sure you fill in the date of the stock taking, description and the location where the stock taking was done.
Often these components are forgotten to be filled in so that the uploaded stock taking data does not match the actual period and location.
Go to the Barang menu -> select the Persediaan menu -> click Import Stock -> Then, download the Final Stock Template.
For more thorough instructions, watch this video below:
Here's an interactive tutorial
** Best experienced in Full Screen (click the icon in the top right corner before you begin) **
https://www.iorad.com/player/1638214/Stok-Opname-di-Jubelio
After the data is created in excel, then you import it directly into Jubelio as explained in the interactive image above.
Hebat! Ada umpan balik lainnya?
Semakin banyak yang Anda beri tahukan kepada kami, semakin banyak hal yang dapat kami bantu.
Hebat! Ada umpan balik lainnya?