Hi Pebisnis!
Once you understand the concepts and principles of inventory adjustment, you can do this activity by following the steps below!
Click Opname tab, then click on Tambah Baru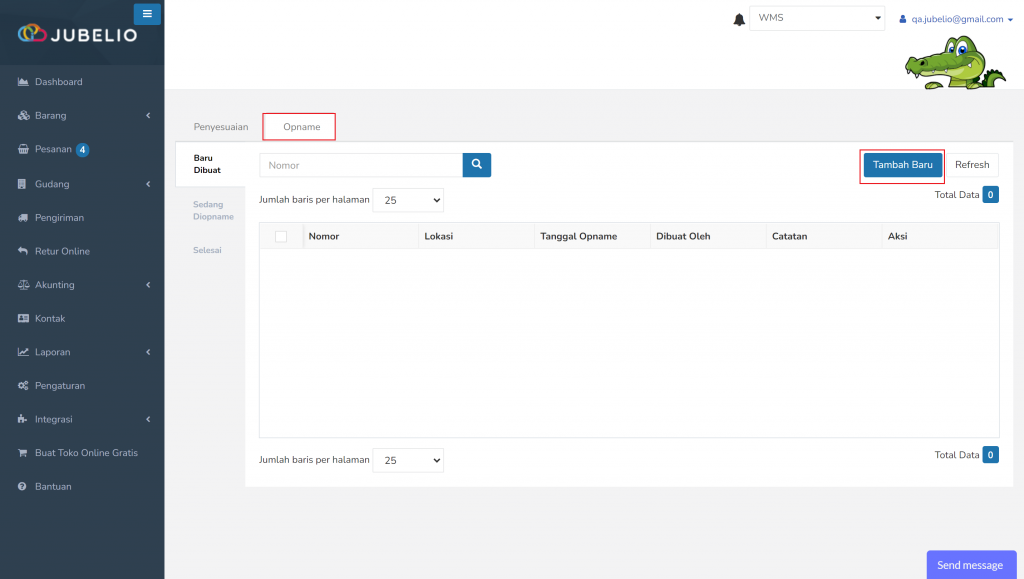 Fill the Opname form (Lokasi and Diproses Oleh).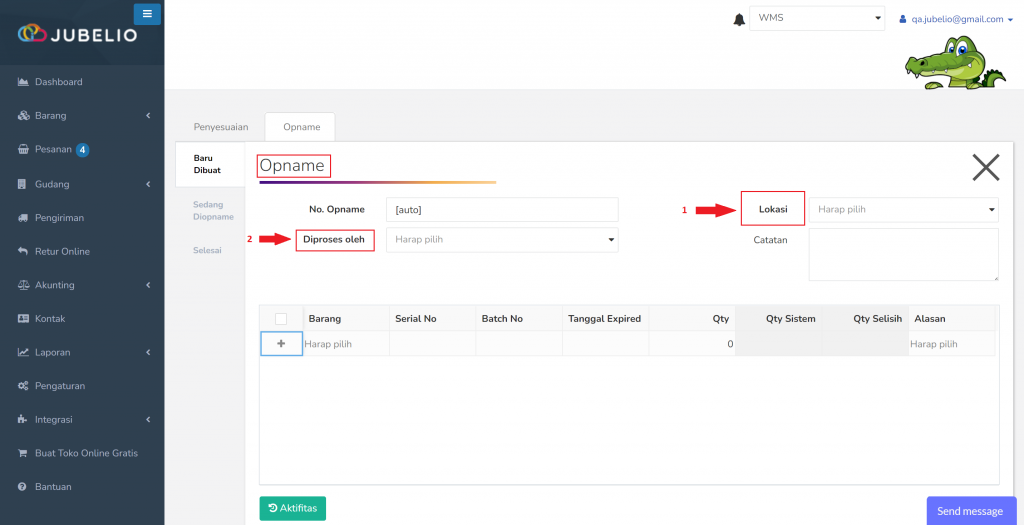 After that, click FilterBarang and fill in the following field(Lantai, Baris, and Kolom) you can fill until Baris level, then click Filter.
After that, all products stored in that rack will be shown. In this page, you might need to take out the products that you don't want to process. Click on the checkbox next to Barang column, then click Hapus.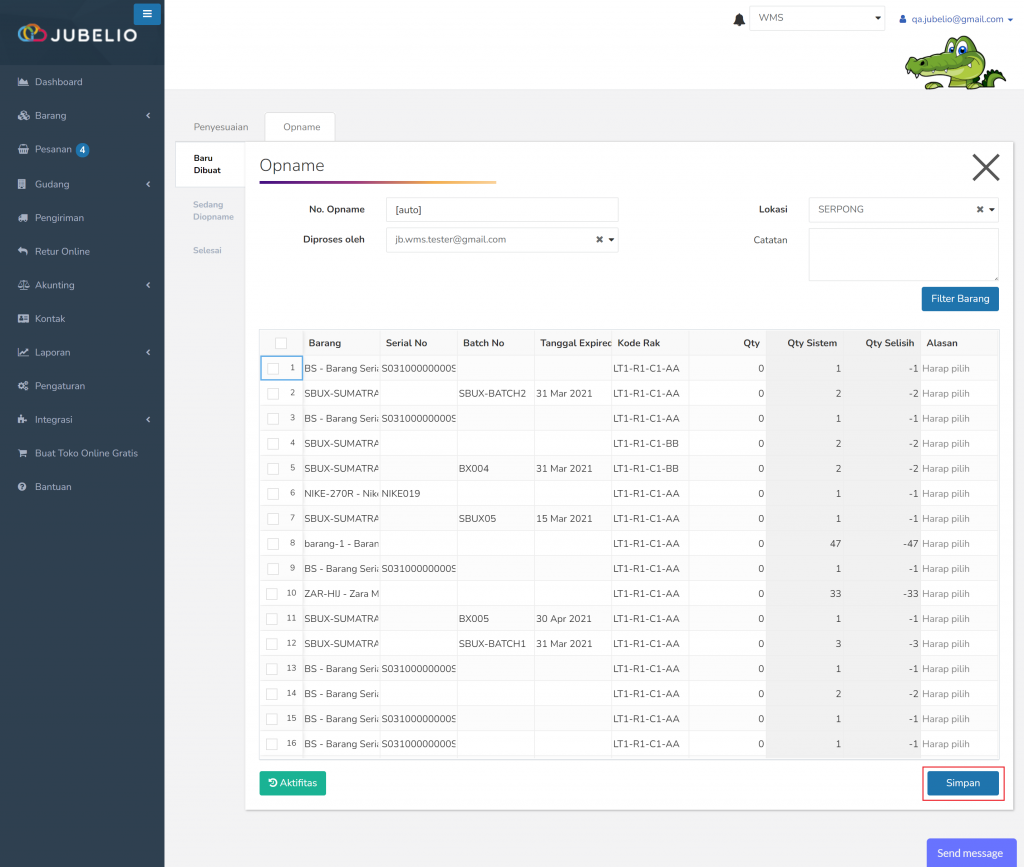 Then on Baru Dibuat tab, tick the checkbox next to Nomor column. Then click Cetak.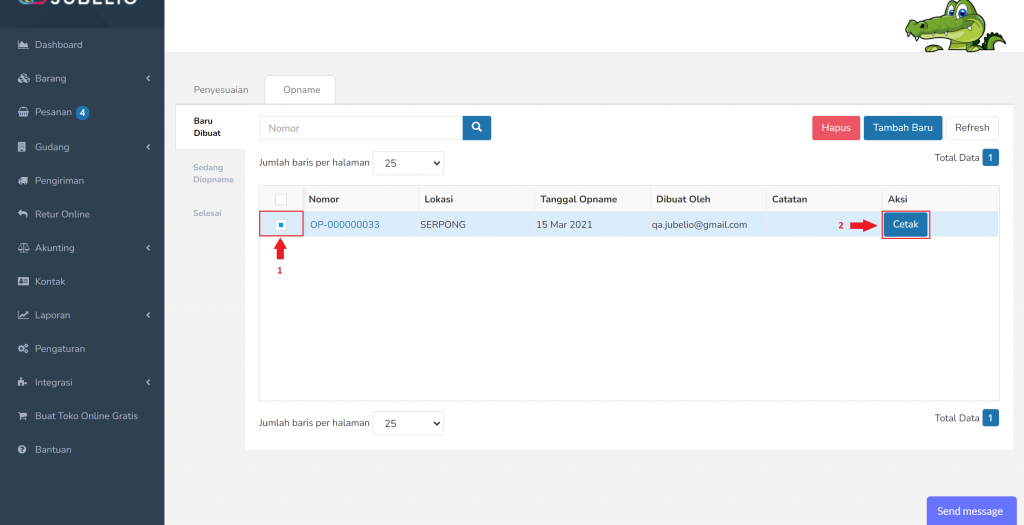 Print the Laporan Opname and give to the staff in charge of stock taking on the warehouse. Ensure the staff to fill the Qty and Catatan fields during the stock taking.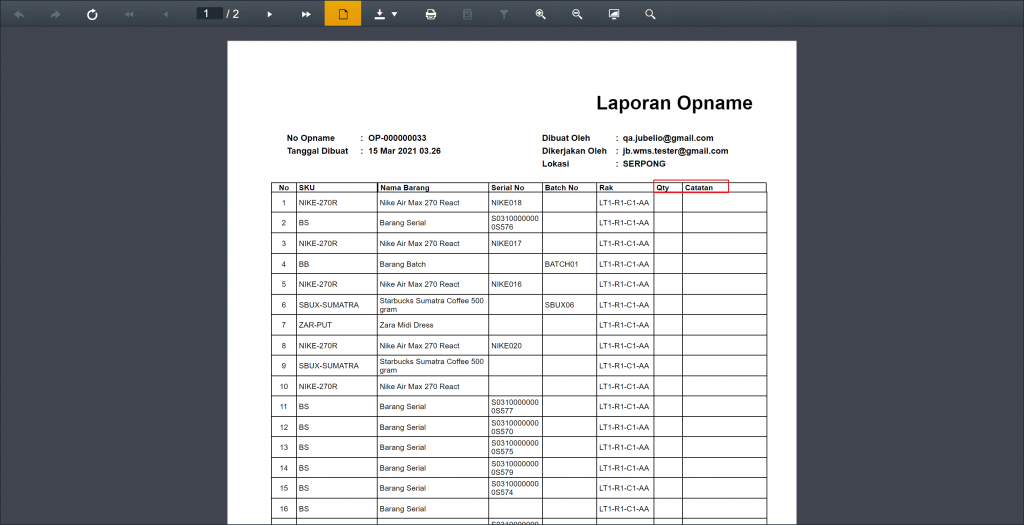 Also when you click Cetak the Stock Taking list you just print will be moved to Sedang Di-Opname tab. After the stock taking is done, ensure the staff in charge returen the laporan opname list to the admin.
Then the admin, must fill the
Qty
and
Alasan
field according to the Laporan Opname.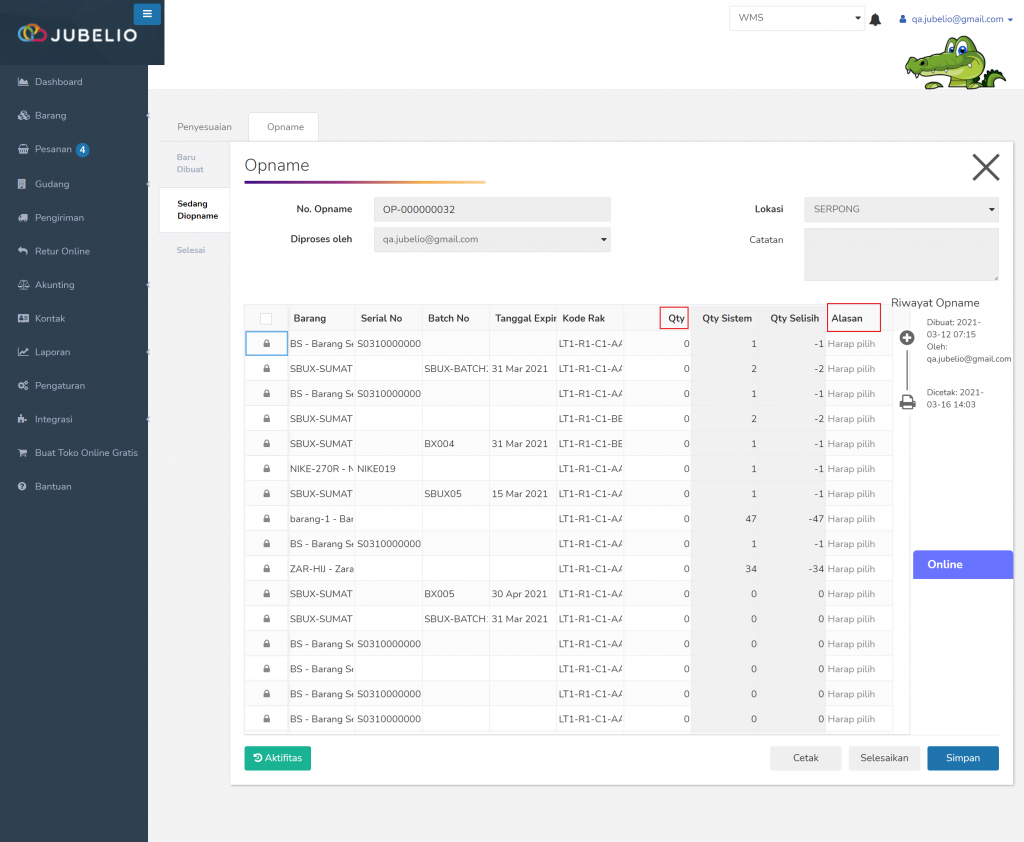 If there are another products not on the system list, you can add the products by clicking + icon. Then select the unlisted product in Jubelio. Ensure these fields are not empty (Barang, Kode Rak, Qty, and Alasan).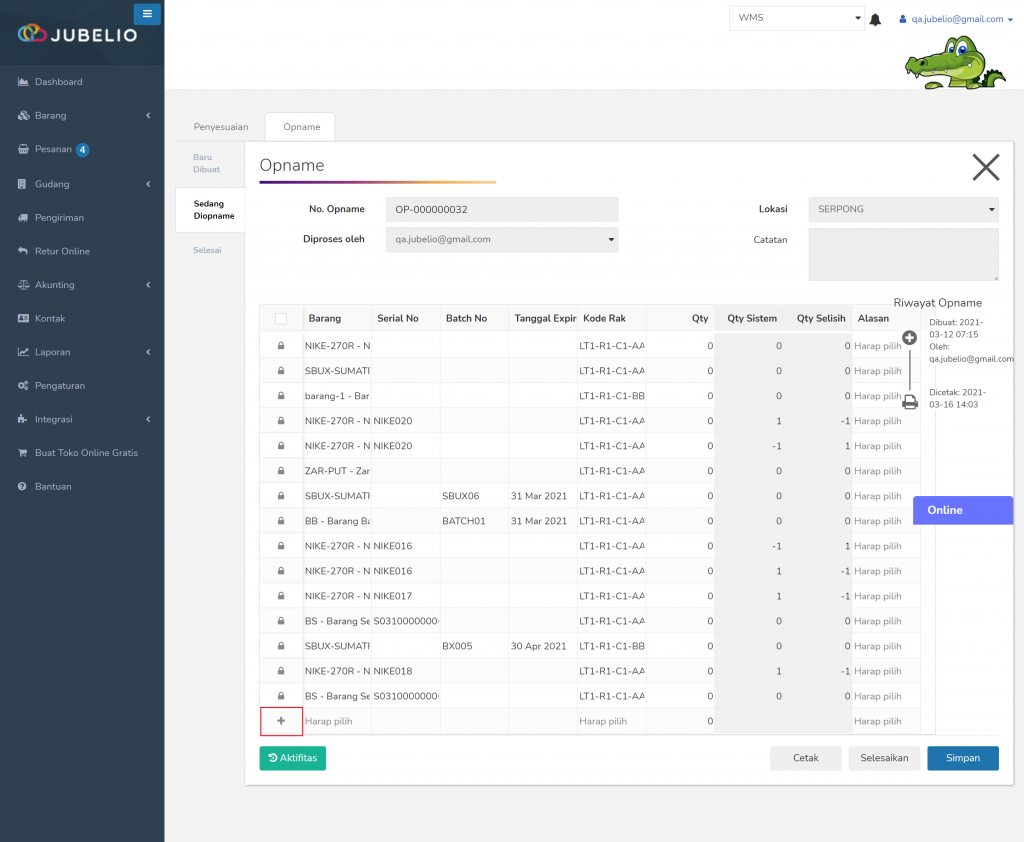 Click Simpan to save the input process. Once done, click on Selesaikan (clicking this option will update the listed products stock according to the stock taking report)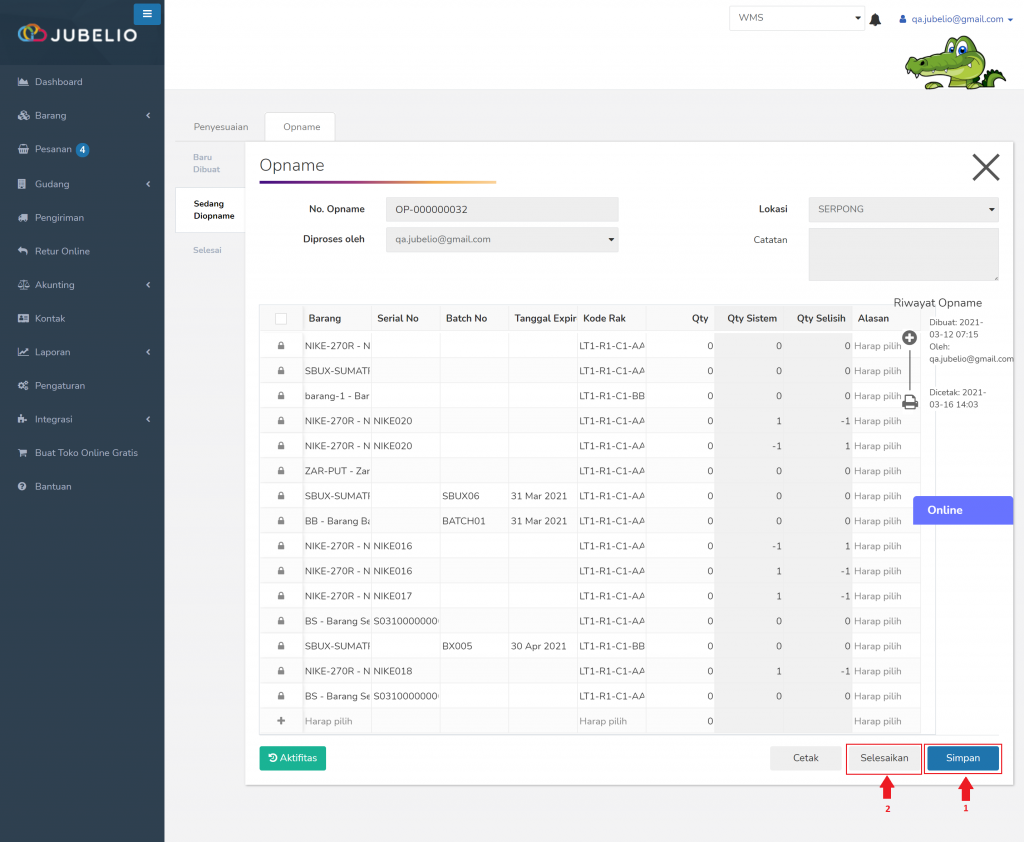 The completed stock taking will appear in the
Selesai
sub-tab and moved to the
Penyesuaian
and can't be changed or revised.
If you want to cancel or abort the completed stock taking, follow these steps below.
Go to Opname tab, click on Selesai
Select the Opname by ticking the checkbox next to Nomor column then click Hapus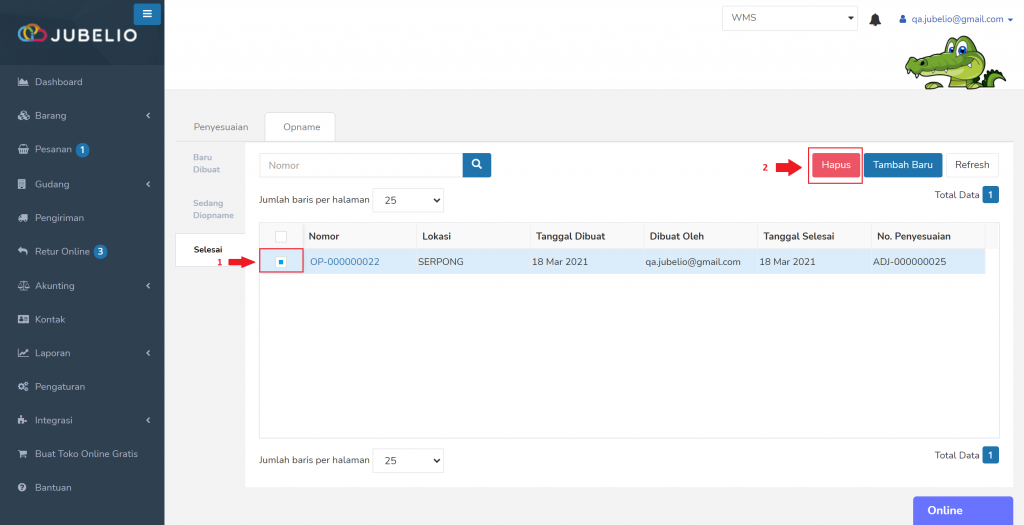 once done, the selected Stock Taking is deleted from Jubelio, and all changes that been made by the deleted stock taking will be rolled back.
Hebat! Ada umpan balik lainnya?
Semakin banyak yang Anda beri tahukan kepada kami, semakin banyak hal yang dapat kami bantu.
Hebat! Ada umpan balik lainnya?