Hi Pebisnis!
Now you can use the Tokopedia Recommended Courier feature more comfortably at Jubelio. With this feature, you can monitor in more detail which courier Tokopedia uses in shipping orders!
To find out how you can follow the steps below!
Click on 

Pengaturan




Then select 

Persediaan

, then select 

Toko

Click on the Tokopedia store that uses a recommended courier

Then check the 

Rekomendasi Kurir 

column then click 

Simpan


Once active, orders using recommended couriers can be viewed for information on the Pesanan menu. In this menu, orders that are being processed and have been sent can be seen by the expedition they are using.
You can see which courier did the pickup and who did the delivery. For example, as shown below.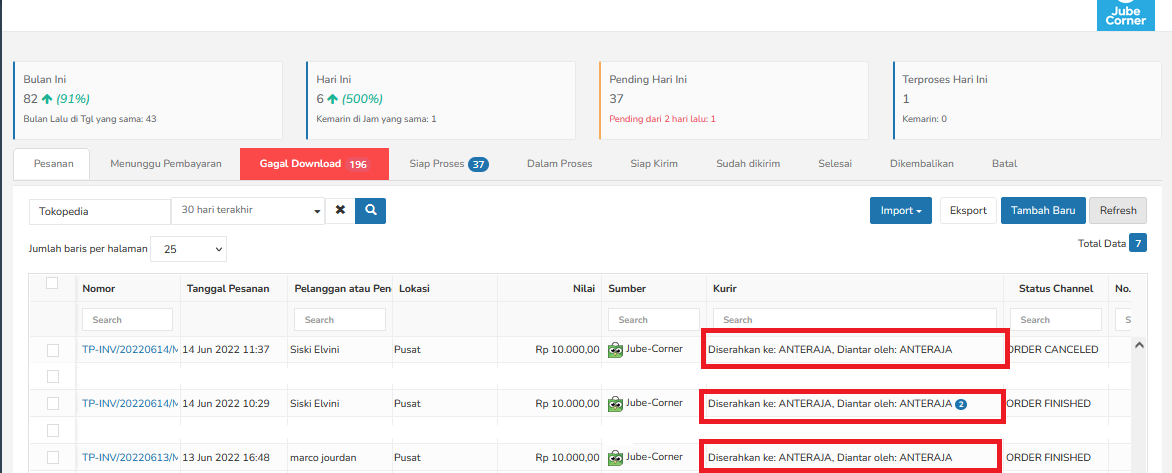 In this order, AnterAja will pick up the expedition, and AnterAja will also carry out the delivery to the buyer.
On other orders, the expedition that does the pickup and delivery may be different. This depends on the courier assigned by Tokopedia in each order.
Hebat! Ada umpan balik lainnya?
Semakin banyak yang Anda beri tahukan kepada kami, semakin banyak hal yang dapat kami bantu.
Hebat! Ada umpan balik lainnya?