What is Product Archiving?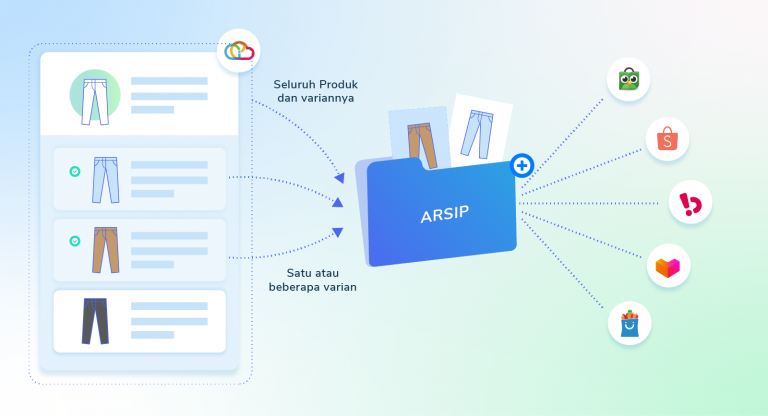 Product Archive is a feature to temporarily store or disable products or their variations (per SKU) on Jubelio. So that products archived will not appear in the inventory list and other related menus within the inventory.
If a product is archived in Jubelio, it does not mean that it is also archived in the marketplace or other sales channels. You need to archive it manually at each seller center so there are no new orders for the archived product, either in the marketplace or at Jubelio.
Suppose you only archive in Jubelio, but don't archive in the marketplace. In that case, if there is an order from the marketplace, the order will still appear on Jubelio. The order can be processed on condition that the archived product stock is still available.
This happens because archiving products on Jubelio does not mean deleting or cutting the product with the marketplace.
In addition to the two conditions above, if a transaction has occurred prior to the archive of the product, then the transaction will still appear in Jubelio, and you can continue the process until it is completed.
Why you need Product Archive Feature?
You need to do this archive feature if you have conditions such as the following:
You don't want to temporarily continue selling certain products in the sales channel and don't want too much data showing in the inventory list.
You have a product that has been discontinued, and you want to remove it from your sales channel. Well, Jubelio does not recommend deleting the product if a transaction has occurred at Jubelio. For that, you can do this feature.
Product Archive Benefits
What advantages do you get by using this Archive feature?
The display of data on the Inventory Menu and menus related to stock inventory will be more concise.
The processing speed is relatively increased because you can optimize the data.
Whenever needed, you can reactivate an archived product.
How to Do Product Archive?
Archiving Product with No Variation
Go to Barang Menu.
Choose Katalog then click Master.
Then click Arsip on the product.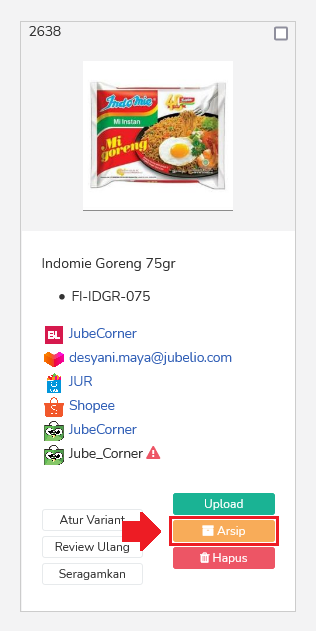 Archiving Product's Variations
Go to Barang Menu.
Choose Katalog then click Master.
Then click Arsip on the product.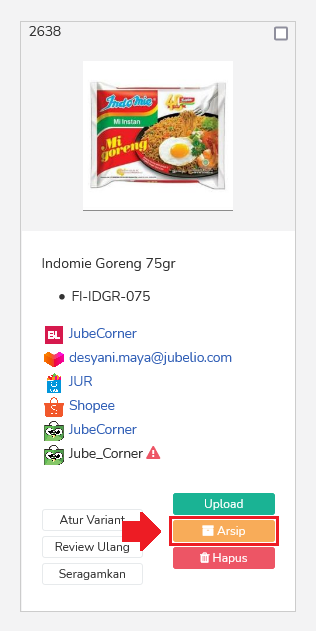 Then the Konfirmasi Arsip Barang screen will appear, where there is a checkbox that can be selected according to the items you want to archive.
Checkbox Pilih Semua: To archive all variations contained in the product; Checkbox for each variation: To choose what variations you want to archive
Click Arsipkan after making your selection.
Then how to see the products that have been archived?
Go to Barang Menu.
Click Katalog then Arsip.
How do I restore or activate a product on Jubelio?
Go to Barang Menu.
Click Katalog then Arsip.
For items that don't have variations, you can directly click Pulihkan.
Then for items that have variations, after clicking Pulihkan, a Konfirmasi Pulihkan Barang will appear, the checkbox can be checked and unchecked according to which product you want to be restore.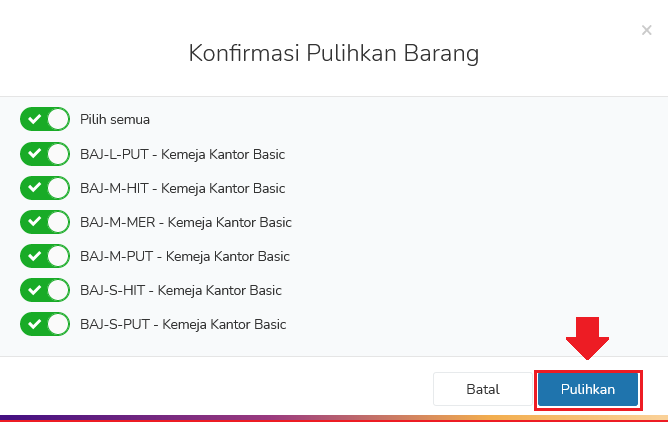 Reactivate the product with the Download dari Online Method:
Go to Barang Menu.
Choose Katalog then click In Review.
Click Download dari Online.
Then download the archived product from the marketplace as usual.
Notes
If the archived product still has stock remaining, it will still be considered as inventory value in bookkeeping/accounting.
For products that have been archived, then restored, they will automatically sync stock back to the marketplace.
Suppose a return transaction on an invoice occurred before the product was archived. It will add the amount of stock for that product, which will automatically sync stock from Jubelio to the marketplace. Then the products in the marketplace will be active again.
The archive feature also applies to bundle products. If the bundle product is archived, the list of filler products from the bundle product can still be made for transactions. On the other hand, if the list of products filling in the bundle products is archived, then the bundle product can still be transacted (applies to transactions using the manual method or the import method).
Hebat! Ada umpan balik lainnya?
Semakin banyak yang Anda beri tahukan kepada kami, semakin banyak hal yang dapat kami bantu.
Hebat! Ada umpan balik lainnya?