Hi Pebisnis!
With the warehouse feature, each product unit can be stored on certain registered racks. This will come in handy, when the warehouse staffs perform the putaway process, they will immediately know where the item should be stored.
So, in the system when the PO is made and the item goes into the penerimaan or Receiving process. The staff can selects Simpan & Tempatkan, the item would placed automatically on the designated racks for each products.
To be able to do this, you need to follow the flow of the Alokasi Rak or Rack Allocation below.
How to Do Racks Allocation
Go to the Barang menu -> Alokasi Rak sub menu
Later, 3 columns will be displayed, namely Nama, SKU, and Aksi that you can edit.
Next, you can click Edit Rak in the Aksi column according to the Name/SKU you want to set.
Alokasi Rak pop up will show, and display Barang, then you can select Rak that you want to set for that item. After that, click Simpan.
You can set the item to be stored in which warehouse and which rack.
You can arrange for one item to be placed on more than one rack.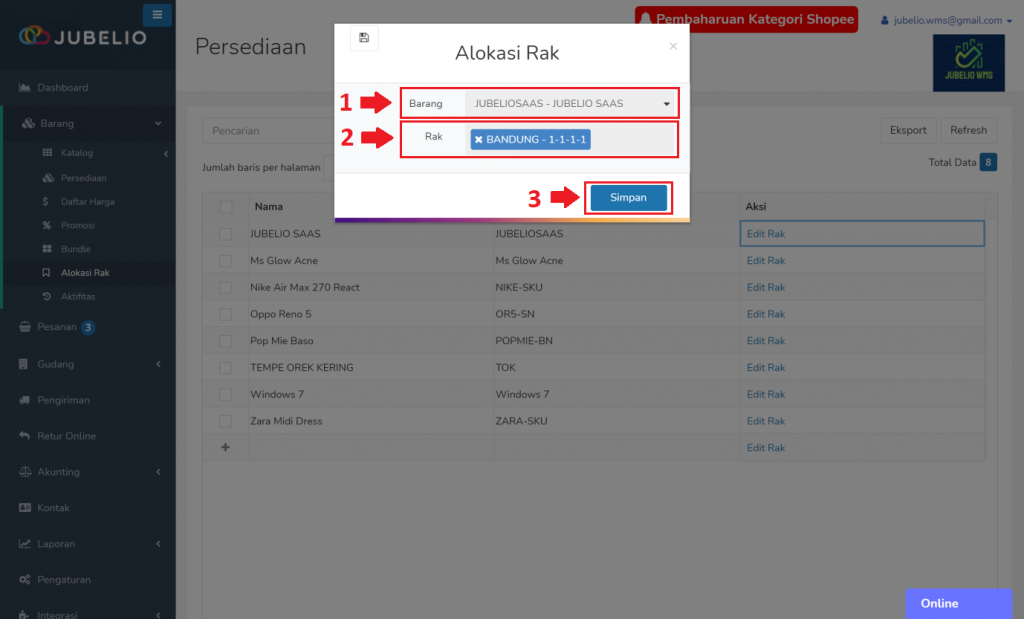 Hebat! Ada umpan balik lainnya?
Semakin banyak yang Anda beri tahukan kepada kami, semakin banyak hal yang dapat kami bantu.
Hebat! Ada umpan balik lainnya?