Cash and Bank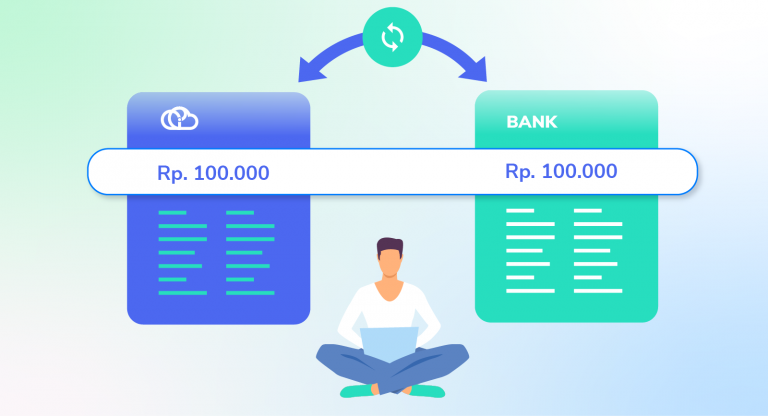 As an entrepreneur, you must incur various costs for running a business. These costs can range from significant expenses such as payroll for employees to small ones such as gallons in the office and parking for operational vehicles.
In addition to expenses, you will also receive incoming money. Of course, from the results of your business, such as sales, and other sources like an injection of funds from investors. There is also a small amount of income, such as cashback postage from expeditions or interest from banks.
The data, no matter how small, must be recorded. You see, the recording is essential for business financial data. The reason for every transaction in and out must be recorded so that the balance sheet is always balanced. In addition to detecting transactions that have not been recorded.
Now to help record your financial transactions, Jubelio has prepared a cash and bank feature that you can use to record income and expenses.
Cash and Bank is a menu that displays the financial records of all your Jubelio account transactions. Whether it's a sale, purchase, settlement and other transactions. This menu is divided into two, namely, Bank Cash Transactions and Bank Reconciliation.
In using the Accounting module, many errors often arise because they rarely fill in Cash and Bank records. Even though this menu affects the movement and balance of your business finances.
So every expense and income from business activities must always be recorded in the Cash and Bank menu.
Bank Cash Transaction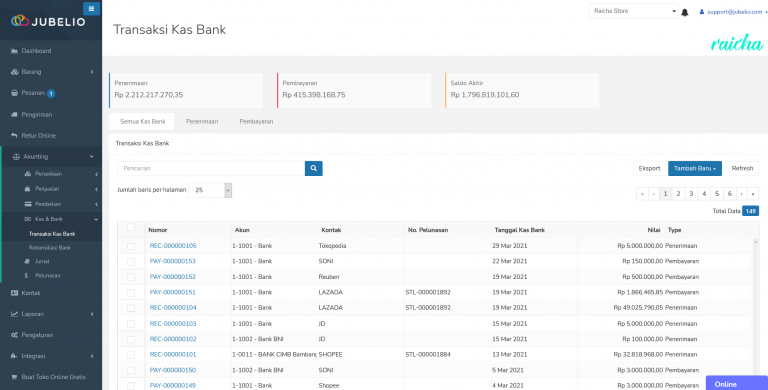 In the Bank Cash Transaction sub menu, you can see money recording in and out of various registered accounts. The list of money movements is based on all transaction activity that you have recorded.
There are three tabs in the Bank Cash Transaction sub menu: All Bank Cash, Receipts and Payments.
On the All Bank Cash tab, you will see a summary of every outgoing and incoming transaction at Jubelio.
Then on the Receipts tab, you will only see a collection of incoming transactions from other parties to your Jubelio account.
On the Payments tab you will see outgoing or credit transactions from your Jubelio account.
So in conclusion, you have to fill this menu with financial income and expenses records. Then it will be reported to you like a financial transfer of your bank account.
Suppose you use the Jubelio Accounting feature properly. In that case, the amount of money that comes in and out should be the same as in your bank account.
Bank Reconciliation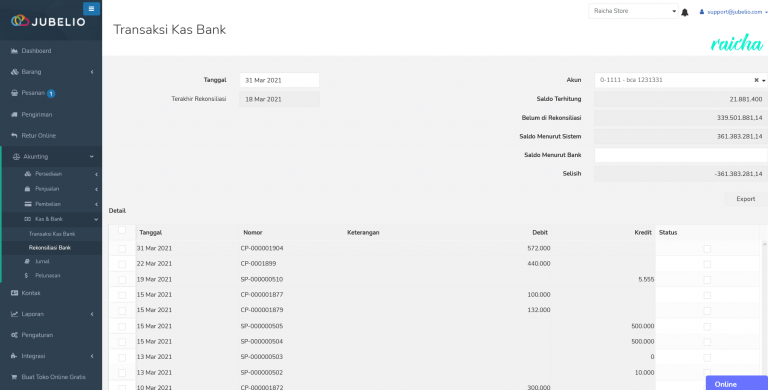 You will see the same list of transactions as in the Bank Cash Transactions menu in this menu. However, you will only see a list of transactions based on the selected account.
In this menu, you can reconcile or match and adjust the financial records in your Jubelio account, with transaction records from the Bank linked to your account.
This aims to match the recorded data and prevent transactions that have not been recorded.
Example:
Not a few business people who rarely record expenses or income in their business activities. Even though this is important for tracking and collecting financial data.
Every money transaction that goes out or comes in, no matter how small, must be recorded. Many think that recording only needs to be done in vital transactions and contain large values.
Meanwhile, small and supportive transactions such as purchasing mineral water or income from bank interest are often overlooked. These types of transactions that are often not recorded can cause the financial records between you and the transfer from the Bank to be out of balance.
As a result, you have to trace back each transaction and match it with bank records. Often small expenses like this can make your balance sheet unbalanced. So make sure to record every money that goes in and out. No matter how small, even from bank interest too.
Hebat! Ada umpan balik lainnya?
Semakin banyak yang Anda beri tahukan kepada kami, semakin banyak hal yang dapat kami bantu.
Hebat! Ada umpan balik lainnya?