What is an Account Code? (CoA)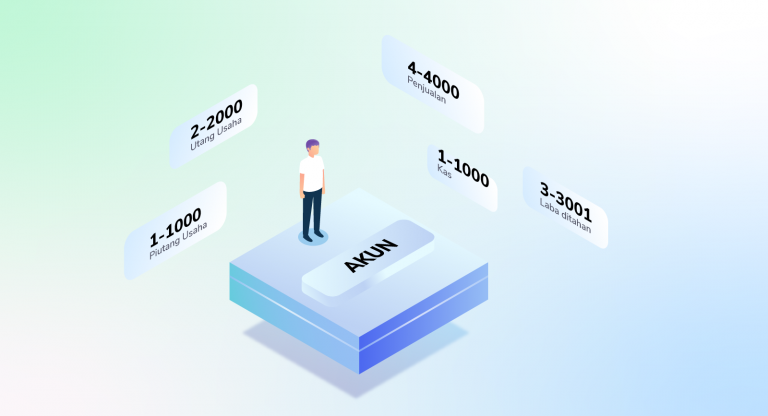 In the Accounting menu, you will not be separated from the accounts that are connected with bookkeeping and recording business activities. Each account has its category and designation.
By default Jubelio already provides accounts and categories and mappings for you to use. If you choose to take the Accounting module seriously, you must first understand accounts.
To access the Account, you can click the Settings menu and then select Account.
Next you will see three more menus related to Accounts—namely, Account, Account Mapping, and Account Category.
Account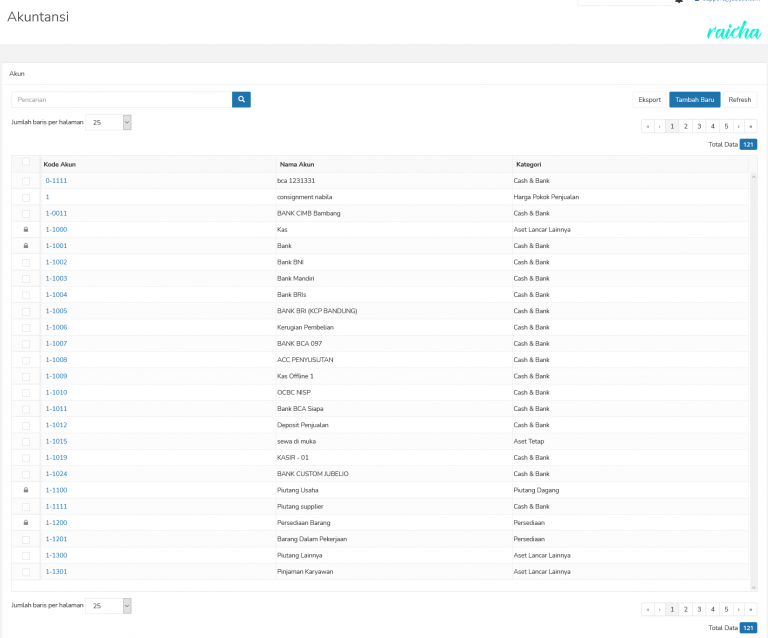 In the first menu i.e. Accounts, you will see a list of accounts used in business bookkeeping. Starting from the Account Code, is the classification code,
Account code: This is the code used by an account, usually this code is related to the type or category of the account.
Account name: Is the name used for the account.
Category: Represents the type of category attributed to the account.
Accounts that have a lock logo will not be able to be deleted because it becomes the primary account of Jubelio.
In addition, you can also add a new account by clicking the Tambah Baru button.
Account Mapping

In this setting, you can set the account mapping as needed. Jubelio, by default, already does account mapping for your business books. But specifically in the Deposit/Customer DP and Purchase Deposit/DP sections.
Each category must be associated with an account of the same type as that category. You have to click the column next to each category to select the account you want to map to that category.
Account Category
It will contain the types of bookkeeping accounts used for recording your business. Each category here is locked and cannot be changed. By default, Jubelio has prepared 15 types of account categories.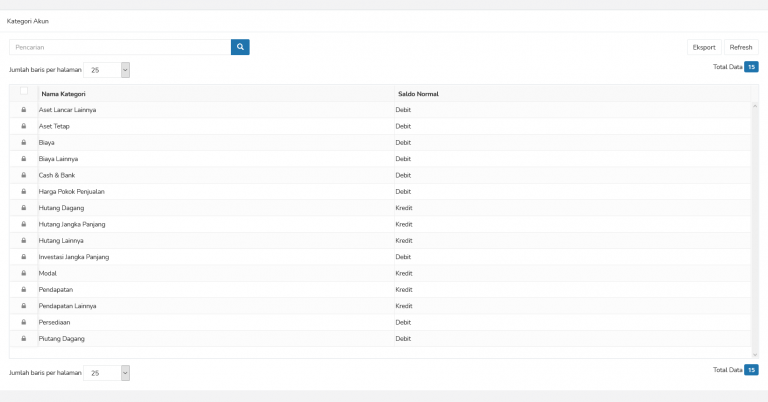 In the left column, you will see the name of the category. Meanwhile, in the column to the right, the type of category can be debit or credit.
Name of the category:
Aset Lancar Lainnya: This category serves to record current assets, namely assets that are easy to cash in no more than one year
Aset Tetap: Is a category of account to record transactions related to fixed assets, or assets that have a long life and are useful for the company.
Biaya: This category will record the costs incurred for operating your business. Such as salaries, electricity and water bills, promotions and other expenses related to main operations.
Biaya Lainnya: This category will record side expenses other than expenses for business operations.
Cash & Bank: This account deals with finances such as cash, bank balance, petty cash, etc.
Harga Pokok Penjualan: This account will record the costs incurred as capital for the procurement of goods that you sell.
Hutang Dagang: Record debt transactions of your business.
Hutang Jangka Panjang: Lists debt that you have to pay within more than one year of operation.
Hutang Lainnya: List debts that you must pay in no more than one year of operation.
Investasi Jangka Panjang: This account records investments or investments in other companies over a long period of time. And will get a profit or profit and control the company.
Modal: This account records the capital invested in your business, including profits or retained earnings.
Pendapatan: This account records the main revenue from your sales.
Pendapatan Lainnya: This account records income from sources other than your principal.
Persediaan: This account records your entire inventory of goods.
Piutang Dagang: This account will record your trade receivables, or your assets held by other parties.
Hebat! Ada umpan balik lainnya?
Semakin banyak yang Anda beri tahukan kepada kami, semakin banyak hal yang dapat kami bantu.
Hebat! Ada umpan balik lainnya?