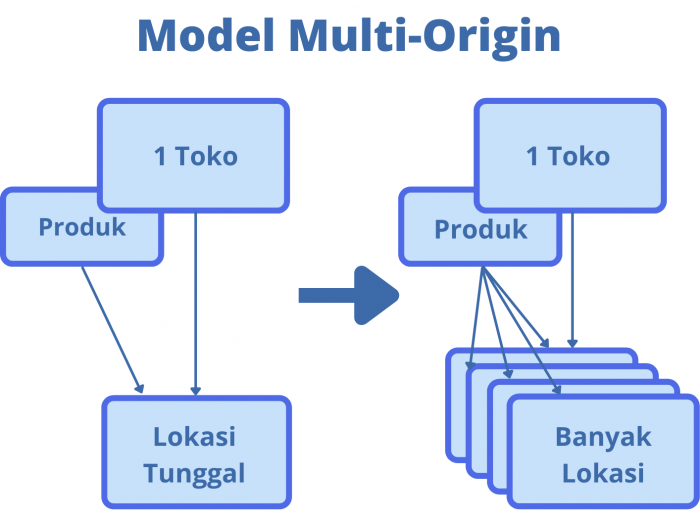 Jubelio brings multi-origin features for you Tokopedia users. This feature allows you to store products in various warehouses. This makes shipping costs cheaper for buyers.
For example, you have five warehouse locations throughout Indonesia. Each of them is spread out in Padang, Bandung, Makassar, Banjarmasin and Jayapura. Each warehouse is stocked with all the products you sell. Well, this feature will automatically place an order for goods based on the location of the buyer.
So a buyer ordered goods from the Palu area, Southeast Sulawesi. So, the order will be directed to processing from the Makassar warehouse. So that buyers get cheaper shipping costs and faster shipping time than being sent from the main warehouse in Bandung. This feature can be activated using Tokopedia Warehouse ID.
This Tokopedia Warehouse ID will be automatically generated when you add a new storage location in the Tokopedia Seller Center. Each location will have its own Warehouse ID, which is a unique identity. So that the Tokopedia and Jubelio systems can directly direct orders that come to the closest location.
In conclusion, multi-origin will give customers the cheapest and fastest cost and delivery time. Because orders are processed from the warehouse closest to the customer's location. Then, the primary condition for using this feature is the Tokopedia Warehouse ID which you must set in Jubelio. Also, stock allocation with multi-origin enabled stores.
Note
If you are not using the multi origin feature, the Warehouse ID field must be left blank. If not, there will be a potential for overselling the product so that the stock will be minus. You can get Tokopedia Warehouse ID through the Tokopedia PIC or contact Jubelio via CS.
You can use this feature by following these steps:
After setting up additional locations on Tokopedia, you have to do the same on Jubelio or simply make adjustments to existing locations .
Click the Pengaturan menu

Then Persediaan then select Lokasi


After that click Tambah Baru then select Lokasi Sendiri or select an existing Location. (If the Warehouse ID has not been added ) Then, fill out the form as usual.

Then enter the Tokopedia Warehouse ID.


Don't forget to click Simpan

Catatan
In using the Multi-Origin feature from Jubelio in accordance with the Multi-Location feature from Tokopedia, Pebisnis can only use this feature for 1 Tokopedia store account only.
It is not recommended for Pebisnis to have more than 1 Tokopedia account using the Multi-Origin feature on Jubelio.
Using more than 1 Tokopedia account with the Multi-Origin feature will result in incorrect data recording and calculation.
If you need further assistance with using the Multi-Origin feature, please contact Jubelio Customer Support through the available channels.
Hebat! Ada umpan balik lainnya?
Semakin banyak yang Anda beri tahukan kepada kami, semakin banyak hal yang dapat kami bantu.
Hebat! Ada umpan balik lainnya?