Items that already have stock and are uploaded to the sales channel will immediately appear on the marketplace. However, you can temporarily disable stock sync to one of the marketplaces if you wish to do so.
How to disable stock sync:
Click the Barang menu on the dashboard -> Then, click the Katalog menu -> Next, enter the Variasi Menu -> Search for products -> click the marketplace that you want to deactivate temporarily.
To reactivate the marketplace, you must enter the Master menu. This is because the deactivated marketplaces in the Variants menu will automatically disappear.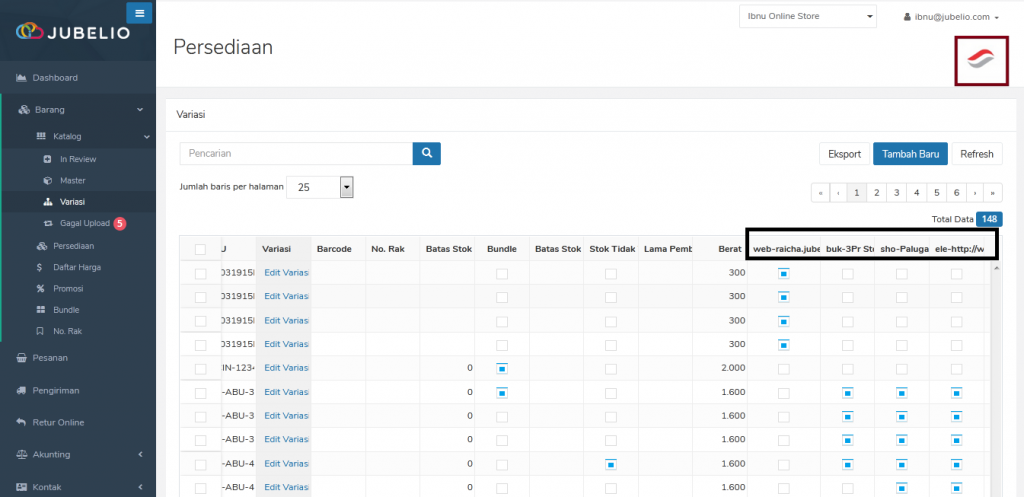 Notes
The name of the marketplace in the box is an abbreviation, for example:
Web: Webstore
Sho: Shopee
Book: Bukalapak
Ele: Elevenia
Click on each marketplace if you want to activate or deactivate them.
Hebat! Ada umpan balik lainnya?
Semakin banyak yang Anda beri tahukan kepada kami, semakin banyak hal yang dapat kami bantu.
Hebat! Ada umpan balik lainnya?