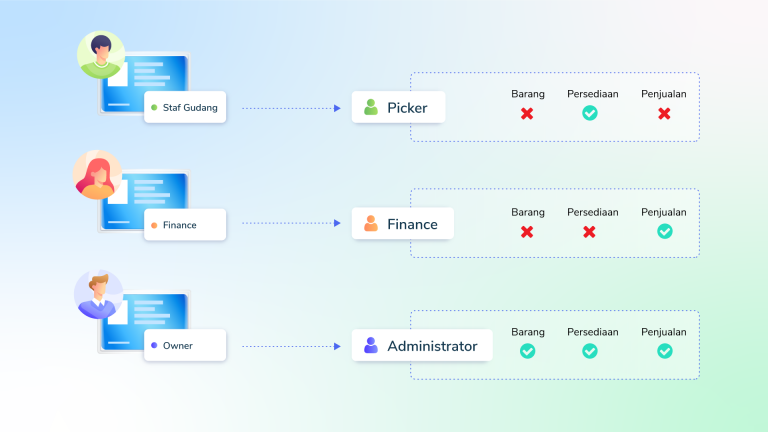 Jubelio has a system that manages users with various roles. Each user has a different role and access to features and data. Users such as administrators have full access to all modules and components in Jubelio.
Meanwhile, other users can have limited access to certain features. Knowing the user roles and access they have in Jubelio is very important for you as a business owner. This is because your Jubelio account may be managed by several admins and staff.
The difference in user roles assigned to admin and staff, allows you to search or track their activities in Jubelio. For example, there is a delivery of a product that has changed its address.
You can find out who is processing the order based on the user role activity. In addition, this can also protect critical information in the business that only certain sections have.
For example, cash flow and the value of assets owned can only be accessed by the role of finance users or the finance department. They cannot see and access the number of stocks and products.
Explanation of the user role types and the default access of each.
Note
Each of the user roles above is default settings from Jubelio that you can change and re-adjust according to your needs. So take it easy, you can adapt each role to the conditions on the field.
How to Assign User Role in Jubelio
Then, how to set or add user roles to each user who has registered with Jubelio can be done easily. You just follow the steps below.
Click Pengaturan.
Choose Perusahaan section ->  Pengguna.
Click on existing users, or add a new one by clicking Tambah Baru.
Fill out the form then, on the Peran Pengguna field choose the role that you want to assign.
Then, click Hak Akses and choose each feature or data you want to assign.
Lastly, click Simpan.
Assigning User Roles as Needed
The created user roles can be rearranged according to your needs. You can assign multiple roles to a single user account. In addition, the existing access rights in an account can also be changed according to your needs.
You can do this if the user has multiple responsibilities at once. For example, a user named Aisy has duties as finance and also an auditor. Then the role settings can be seen below: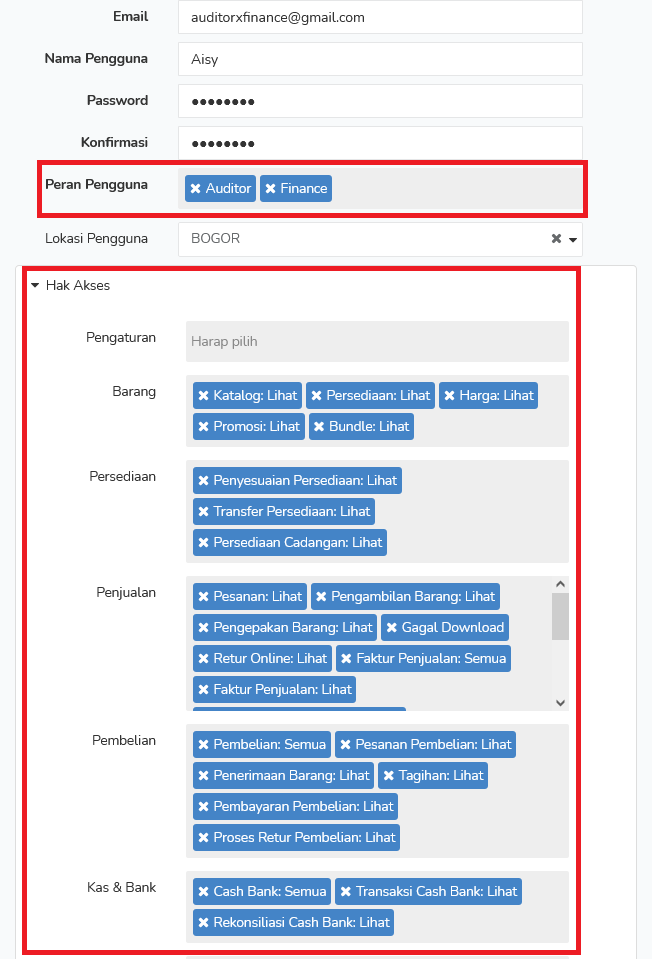 Note
That there are several roles assigned to Aisy's account in the Peran Pengguna column. The roles are Finance and Auditor, this means that Aisy's account will get two accesses based on the existing role. You can add more roles as needed. Also, note in the Hak Akses section, that Aisy's account has user access based on existing roles, namely, Finance and Auditor. You can still change the access rights based on your needs.
Hebat! Ada umpan balik lainnya?
Semakin banyak yang Anda beri tahukan kepada kami, semakin banyak hal yang dapat kami bantu.
Hebat! Ada umpan balik lainnya?