Hi, Pebisnis!
Besides being used to process orders from the marketplace (online), you can also make manual orders if sales are coming from unsupported sales channel. Such as: direct sales, social media, WhatsApp, or some marketplaces that Jubelio does not yet support.
How to create manual orders:
Go to the Pesanan menu -> Then, click the Pesanan tab -> Click Tambah Baru -> Fill out the details like Pelanggan, Tanggal, Lokasi, Sumber and tick the Sudah Lunas chcekbox > Then choose the ordered items and quantity > Select Simpan.
If the orders is already paid by customers, it will be listed in Siap Proses tab.
If you want to change the orders fulfillment process. Go to Pesanan On Siap Proses tab click on Ubah Lokasi button.

Select the orders you want to fulfill by clicking on the checkbox on the left of orders number column. Then click on Proses

The selected orders is moved into Gudang menu > Pemenuhan Pesanan sub menu, on the Pengambilan tab -> on Belum Mulai

If the Automated Picklist feature is activated, the picklist for the selected orders would be generated automatically when clicking Proses.

Settings regarding conditions and how to create automated picklists can be seen here.
The automated picklist will also move the selected orders into Pemrosesan Pesanan sub menu > Pengambilan tab > Lagi Proses sidebar on Gudang

Notes: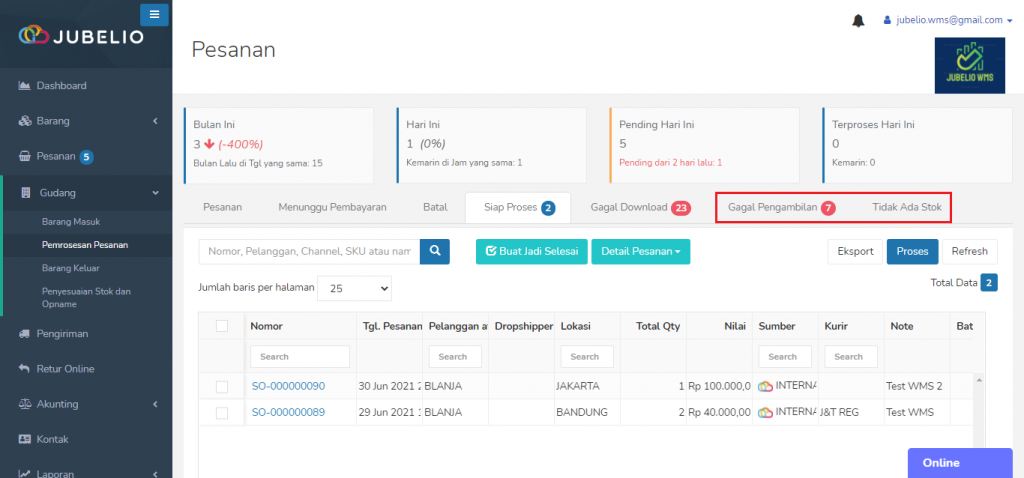 Gagal Pengambilan Tab:Contains orders whose stock items are available in the system, but cannot be fulfilled in the warehouse.
Tidak Ada Stok tab: Contains orders whose products is out of stock.
In the Tidak Ada Stok tab, there are two buttons, namely Laporan Tidak Ada Stok and Recheck Stok.
Laporan Tidak Ada Stok:Displays a list of products that out-of-stock.
RecheckStok: Moves orders whose stock has been filled to Siap Proses
Permintaan Batal Tab:Displays a list of orders that are currently being cancelled by customers and need your confirmation on the seller center page.
If you want to process the cancelled order by scanning/inputthe order numbers, you will see a notification "Order has been Canceled."
If the problems with these orders are already settled, you can reprocess them by clicking Proses.
Hebat! Ada umpan balik lainnya?
Semakin banyak yang Anda beri tahukan kepada kami, semakin banyak hal yang dapat kami bantu.
Hebat! Ada umpan balik lainnya?