Mapping variations between Jubelio and the marketplace aims to synchronize variations values in a product, e.g size and colors in such products.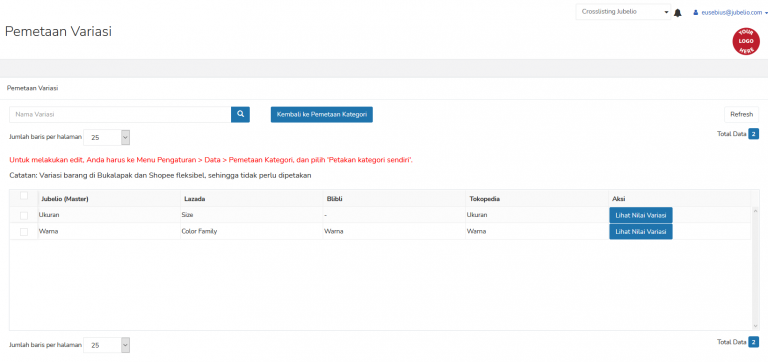 The definition of each color and size in the marketplace is different from one another. Therefore, the color and size of an item in Jubelio will be the reference of the marketplace.
Jubelio's variations will be the reference for the marketplace version when the variations are mapped and arranged according to the goods. Once done, you can cross-listi the products without the need to adjust each marketplace's variations.
Jubelio has prepared a marketplace category mapping template that can be used immediately. However, if you set up the master category yourself, then the mapping of the marketplace variations must be arranged yourself.
This option can only be done when you turn on the map category itself feature.
To do this, click Pengaturan > Data > Pemetaan Kategori > turn on the Petakan Kategori Sendiri toggle > Save
Before mapping variation, you must first do a category mapping between Jubelio and the marketplace. Otherwise, the variation mapping table will not display any data.
Follow the steps below to set the variation mapping:
Click the Barang menu then Katalog then select Pemetaan Kategori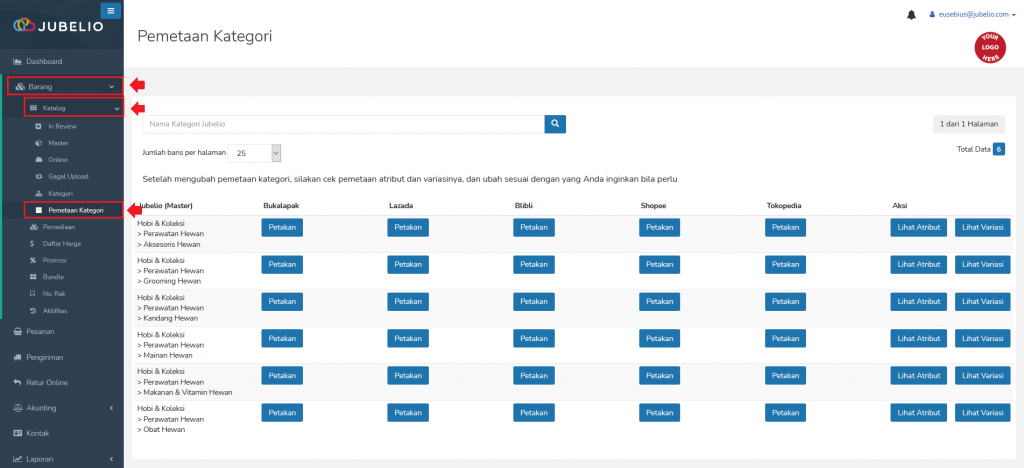 Then click on Lihat Variasi next to the variations you want to map

If done, click Tambah Baru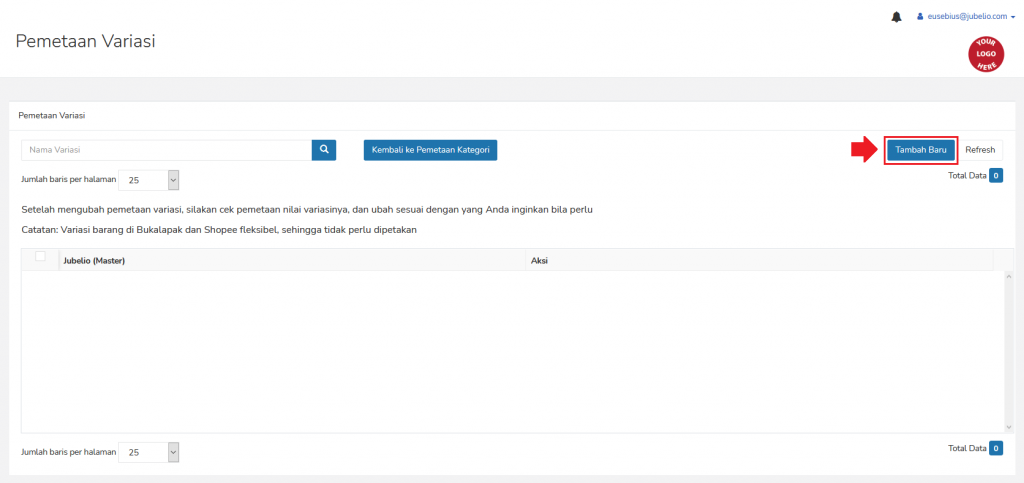 Enter the Variasi that you want to map, then click Simpan

After that, click on Petakan Button on every marketplace's variation

Fill in the variation that corresponds to the Jubelio version, then click Simpan

Then check back on the variation table to make sure the variation between Jubelio and Marketplace is appropriate.

Note
Before doing attribute and variation mapping, you must complete the category mapping first!
Hebat! Ada umpan balik lainnya?
Semakin banyak yang Anda beri tahukan kepada kami, semakin banyak hal yang dapat kami bantu.
Hebat! Ada umpan balik lainnya?