Attribute mapping functions to synchronize product attributes in each marketplace to match the one you use at Jubelio. Different attributes values between marketplaces can be unify for each category and product.
The Jubelio (Master) attribute will be used for each product listed at Jubelio and would be synced with the attributes value in each marketplace. So when the attributes of the Jubelio and the marketplace have been mapped, all you have to do is cross-list all products the selected channels.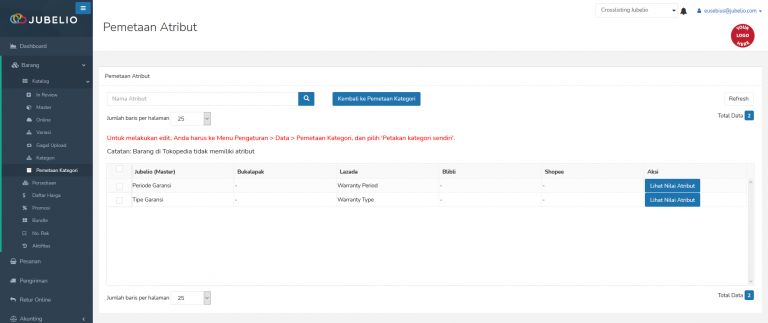 Jubelio, by default, already provides attribute mapping that is ready to use. But if the product attributes have not been mapped, you have to set them yourself so that you can use the cross-listing and copy listing functions optimally.

But if you use your own Jubelio category (Master), you must reset the attribute mapping. In addition, you also have to readjust the attribute values.
Jubelio has prepared a marketplace attribute mapping template that you can use immediately. However, if you create and use your version of master category, you must set up the marketplace attribute mapping yourself.
This option can only be done when you turn on the map category itself feature.
To do this, click Pengaturan > Data > Pemetaan Kategori > turn on the Petakan Kategori Sendiri toggle > Save
Before mapping attributes, you must first do a category mapping between Jubelio and the marketplace. Otherwise, the attribute mapping table will not display any data.
Follow the steps below to set the attribute mapping:
Click the Barang Menu, then Katalog, then select Pemetaan Kategori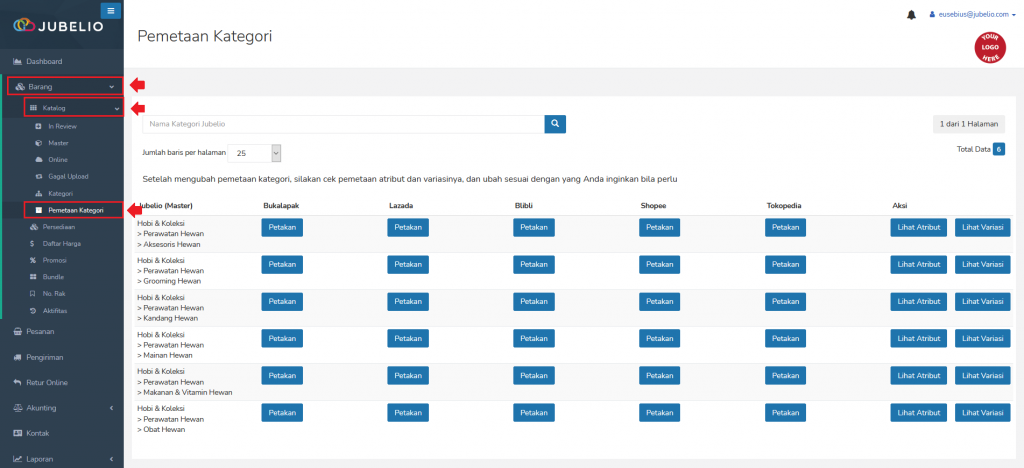 Next click Lihat Atribut next to the category you want to set

Then click the Tambah Baru button to add the Jubelio (Master) Attribute

Fill in the attribute name according to the type of item, then click Simpan

After that, you will see an attribute table starting from Jubelio and the connected marketplace category.
Click Petakan on the marketplace attribute you want to map

Choose the most suitable marketplace attribute, then click Simpan

Note
Before doing attribute and variation mapping, you must complete the category mapping first!
Hebat! Ada umpan balik lainnya?
Semakin banyak yang Anda beri tahukan kepada kami, semakin banyak hal yang dapat kami bantu.
Hebat! Ada umpan balik lainnya?