Hello, Pebisnis!
One of the promotions available at Jubelio POS is the Diskon Minimum Kuantiti Barang. Diskon Minimum Kuantiti Barang is a promotion that applied to the following requirements:
"Every purchase of a certain quantity, the item will get a discount of a certain percentage or rupiah."

or "Every purchase of item A 'and' item B with a certain quantity, each item A and B will get a discount in a certain percentage or rupiah (with a proportional amount)."
Discounts are based on nominal (Rp) or percent (Disk %). If using a nominal discount, you must determine the nominal discount price.
If you use a percent discount, you must specify a percent nominal. You can also add a maximum discount of up to a nominal amount of rupiah, but it is not mandatory. 
How to Create Discount Promotion with Minimum Item Quantity
Go to Pemasaran menu-> click Promosi sub-menu -> click Tambah Promosi.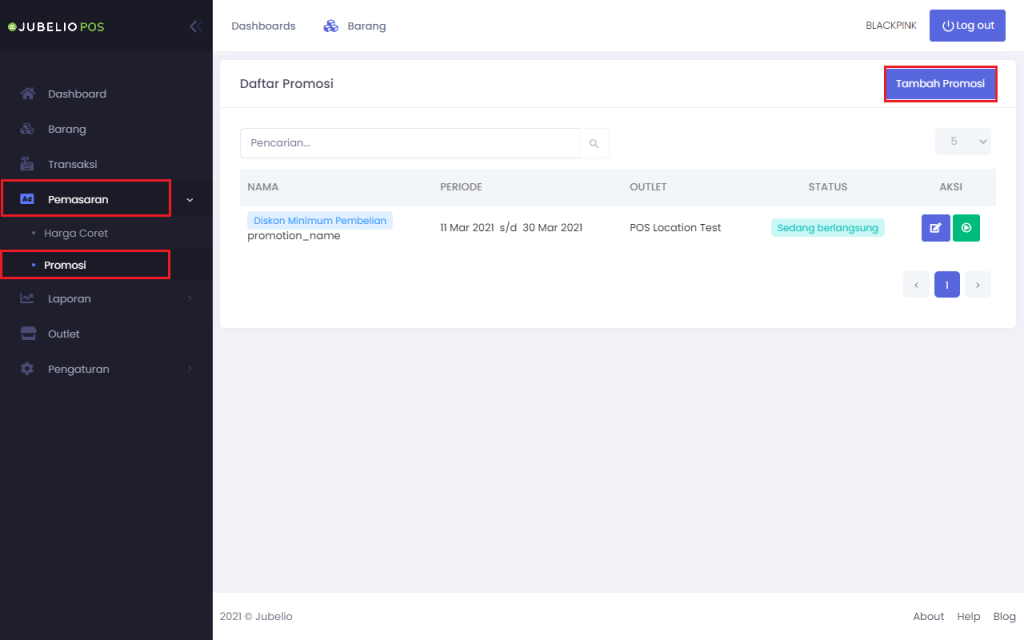 A Promotion form will appear. Select the Tipe Promosi – Diskon Minimum Kuantiti Barang.
Fill in Informasi Dasar, including Nama, Tanggal Mulai–Selesai, Jam Mulai–Selesai, and Outlet. 
Outside of the specified date and time, promotions at your outlet are not valid.

When creating a new

Promosi

, make sure there is no list of promotions with the same item at the outlet and in the same timeframe to avoid overlap.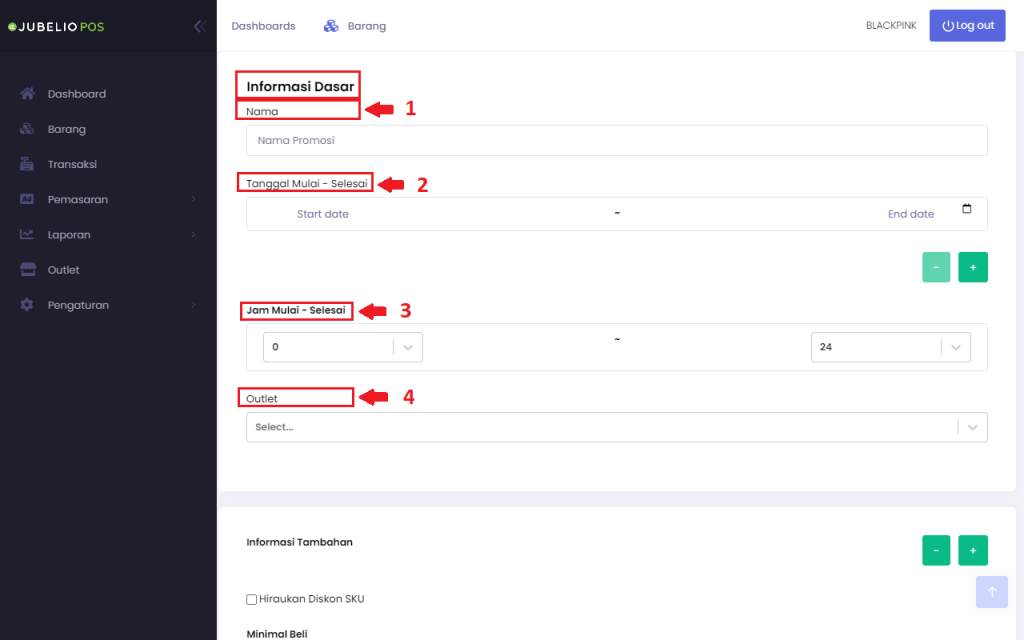 Next, fill in the Informasi Tambahan, including the Hiraukan Diskon SKU  check box if you want to provide additional discounts after Harga Coret, Minimal Beli (Select Produk/Kategori/SKU), and Diskon (Rp or %).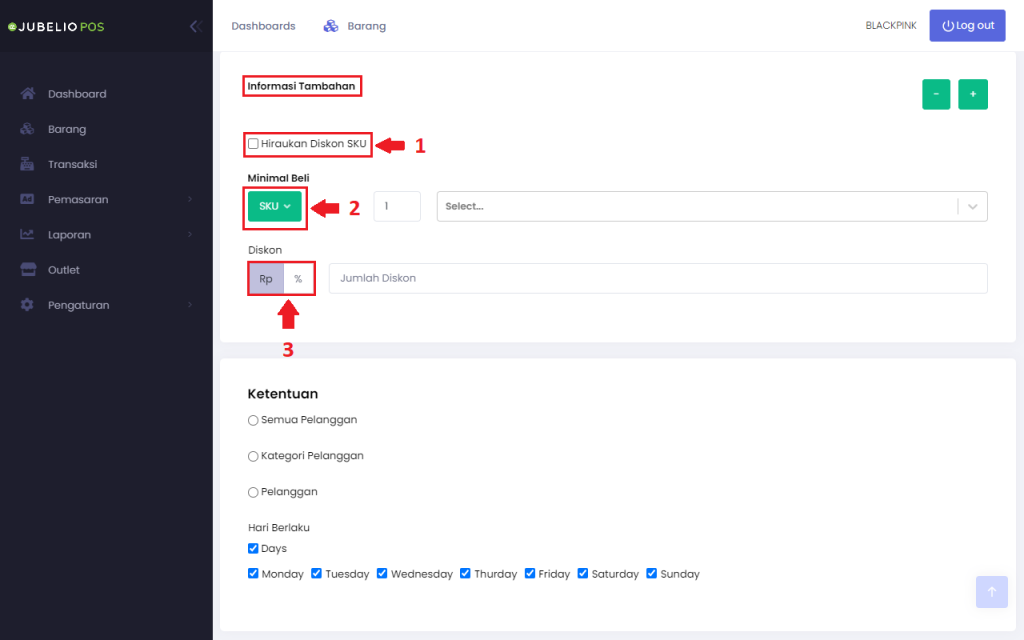 Next, fill in the Ketentuan including customer criteria (Semua Pelanggan/Kategori Pelanggan/pelanggan) and Hari Berlaku the Promotion. Customer data can be found in the Kontak section of Jubelio.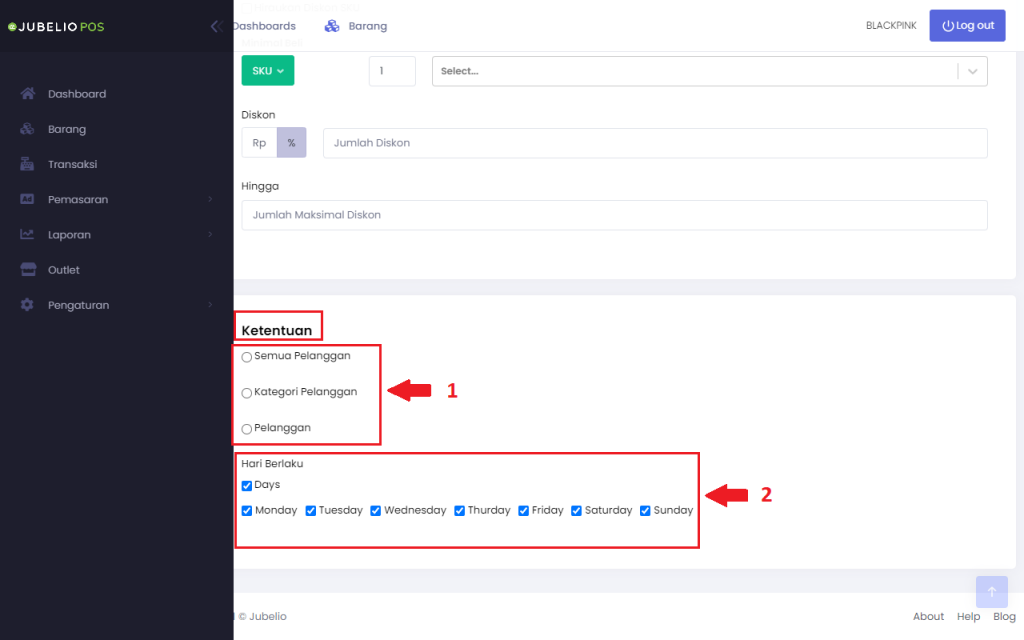 If you provide a nominal discount (Rp), enter the nominal price directly in the Nominal Diskon column.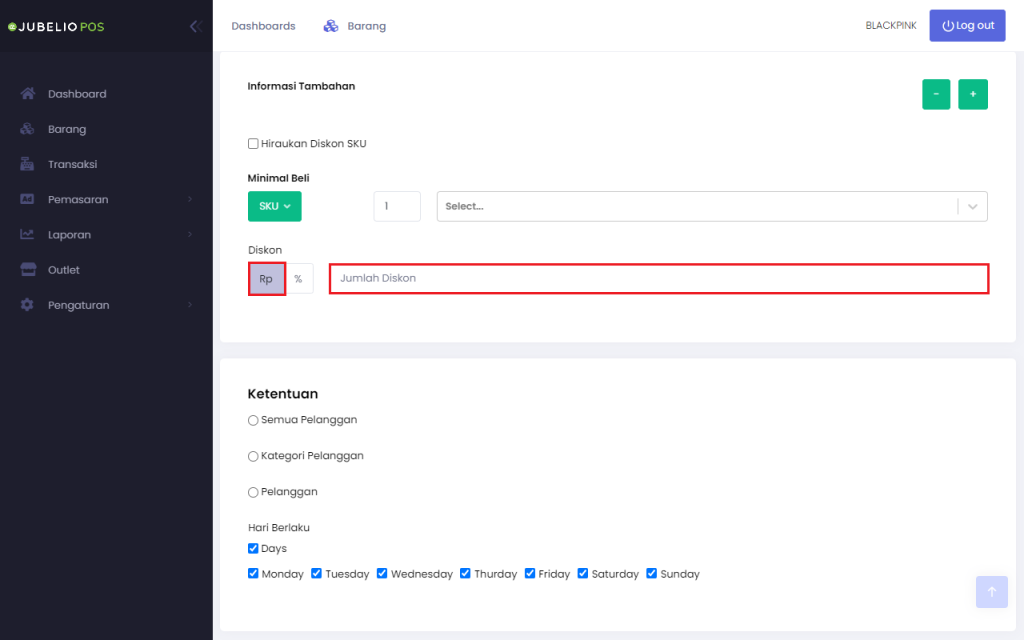 Fill in the percent amount in the Nominal Diskon column if you're giving a percent discount. The Hingga column section can be filled with a maximum discount with a nominal value (not mandatory).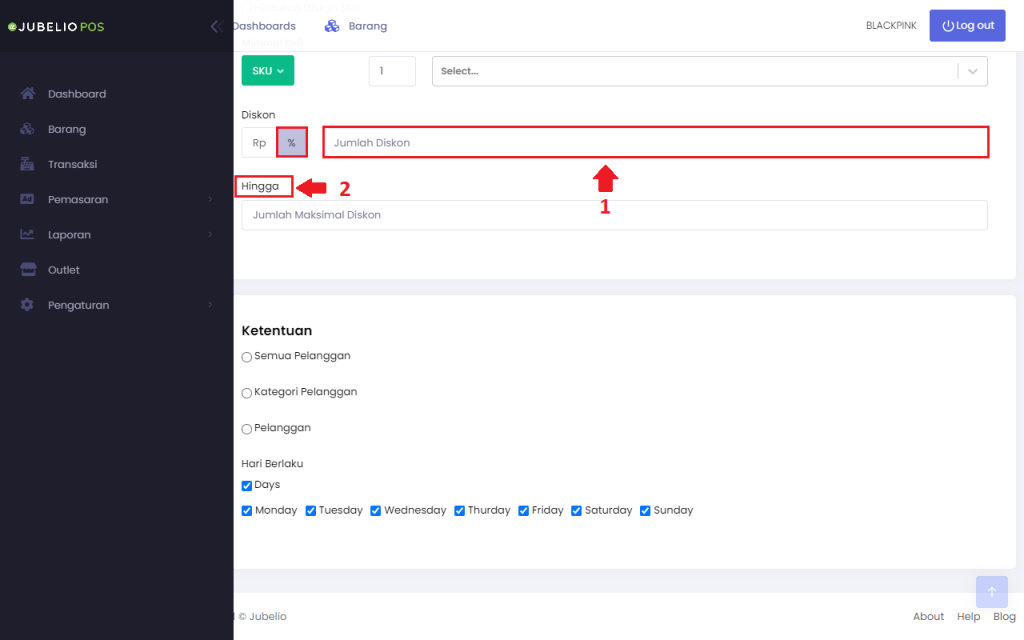 Click Simpan.
When you open the cash register, the display appears when you use the

Diskon Minimum Kuantiti Barang

: For example, buying 2 ABC items will get a 5% discount up to Rp. 15,000.00. At the cash register, a display like the following will appear.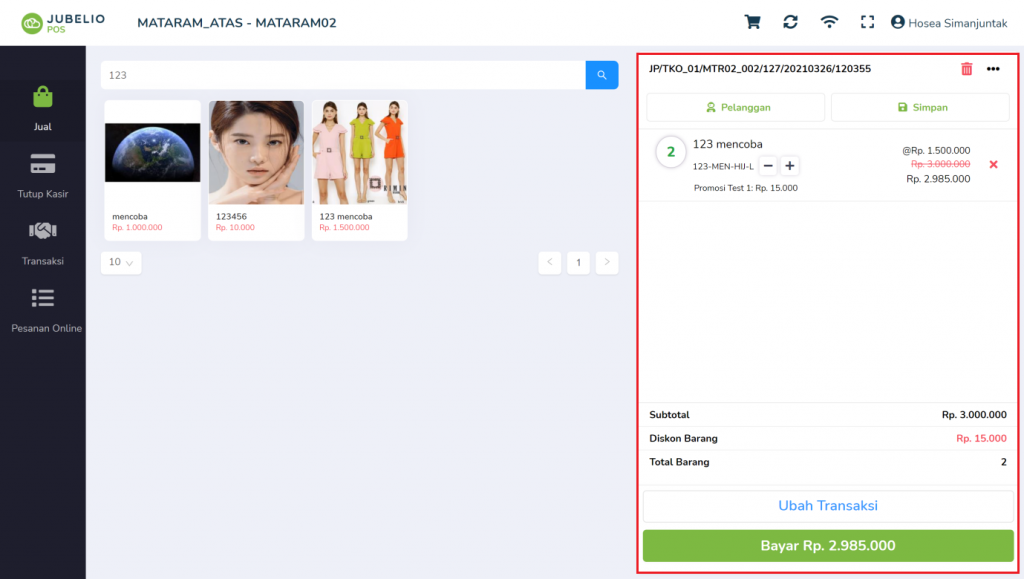 Hebat! Ada umpan balik lainnya?
Semakin banyak yang Anda beri tahukan kepada kami, semakin banyak hal yang dapat kami bantu.
Hebat! Ada umpan balik lainnya?