Hello, Pebisnis!
When creating a payment transaction in the Jual menu, apart from completing a payment transaction with Cash/Debit/Credit/QRIS, you can also use payment with a Store Kredit.
Store Kredit is a payment method sourced from customer return transactions but no refunds. Later, the store credit can be used when creating the next payment transaction.
When customers pay transaction using the Store Kredit, it is recommended that the cashier be online to avoid the possibility of not registering the use of the Store Kredit.
Flow for Transaction with Store Kredit
When you are about to make a payment transaction in the Jual menu, click 

Selanjutnya

.
The Total display and the payment method will appear, namely Tunai/Debit /Credit/QRIS. In addition, there is a Bayar Cepat method specifically for cash payments and also Store Kredit.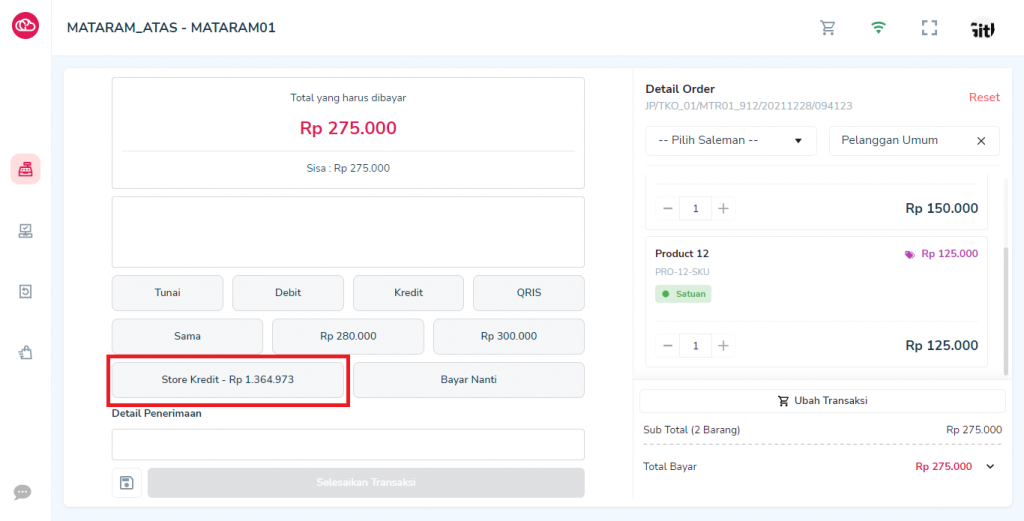 A pop-up nominal Store Kredit will appear that will use. Click Store Kredit, Simpan.
Click Selesaikan Transaksi.
After completing the transaction, the receipt will print according to the printer attached to your POS cash register.
Finally, a successful transaction pop-up will appear, and you will be redirected back to the sales page. Transactions that have been made will be listed in the Transaksi.
In Jubelio Omnichannel, in the Proses Retur sub-menu, the Pemotongan Faktur tab will be listed in the Nomor column containing SRS-XXXX for several invoices according to the nominal value.
In addition, in Jubelio Omnichannel, in the submenu Akunting-> Penjualan -> Faktur in the Faktur tab, the Nomor Invoice will be listed along with the nominal value used and the remaining Rp0 to be paid.
Hebat! Ada umpan balik lainnya?
Semakin banyak yang Anda beri tahukan kepada kami, semakin banyak hal yang dapat kami bantu.
Hebat! Ada umpan balik lainnya?