Hello, Pebisnis!
After you apply the payment method while the Payment Setting, You can claim all funds from transactions that have been made to withdraw them from the Jubelio Store.
Klaim Payment ini bisa digunakan jika Anda menerapkan metode pembayaran dengan Payment Gateway (Virtual Account, Credit Card, E-wallet, dan Retail).
How to Payment Claim
log in to your Jubelio Store.
Click the Payment tab -> Dana Sekarang
The available nominal money will appear.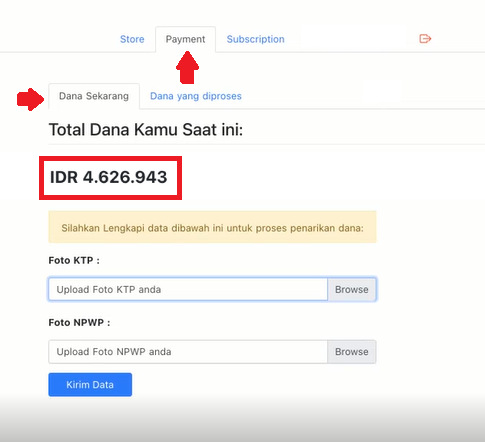 Complete your data by uploading a photo of your KTP, and NPWP -> click Kirim Data.
Once approved, it will look like this.
To make claim, you click Klaim Balance.
Fill in the destination bank data for the claim (personal name, bank name, and account number) -> click the "+" sign.
Select a bank account -> click Tarik Dana Sekarang.
You have finished making a Payment Claim and waiting for the funds to be disbursed to your account.
Hebat! Ada umpan balik lainnya?
Semakin banyak yang Anda beri tahukan kepada kami, semakin banyak hal yang dapat kami bantu.
Hebat! Ada umpan balik lainnya?