Bundles are a marketing strategy where you sell several products simultaneously in one package. You can make it at Jubelio, and then you can sell the bundle in the marketplace of your choice.
For example, the BUCIN (Love Bundling) promo buys one 'X' shirt and a free 'Y' shirt. In Jubelio, you can create a new price for the bundle, excluding the item's unit price.
How to Make Bundle in Jubelio:
Go to Barang menu > Select Bundle > Click Tambah Baru > Fill in the Bundle Creation Form > Simpan
For more comprehensive tutorial follow this video below:
Here's an interactive tutorial
** Best experienced in Full Screen (click the icon in the top right corner before you begin) **
https://www.iorad.com/player/1637847/Cara-Membuat-Menu-Bundle
A Bundle product will generate a new SKU consisting of two or more items sold simultaneously. The stock in the bundle will decrease if the unit items in the SKU bundle are sold.
For example, you have ten shoe stock SKUs and five socks SKUs. Then, you make a bundle of these two items with five new SKUs.
If a pair of socks are sold, Jubelio will reduce the stock SKU of the socks to four. Thus, the SKU in the bundle will be affected and will automatically decrease to four.
There are several reasons you need to create a bundle:
To provide promotions to customers
To sell items that are not sold and have piled up in the warehouse
Note
Fill in the selling price
You must fill in the internal selling price listed in the bundle creation form. The selling price in each marketplace also needs to be filled in if you want a different price.
In addition to bundles, this menu can actually also be used as a tool to create wholesale catalogs. How to make it the same as bundle.
How to Differentiate Bundle from Another Product
Bundle products have different SKUs from standard products. You can see the difference in the Persediaan menu. This is because bundle products have unique markings as listed below: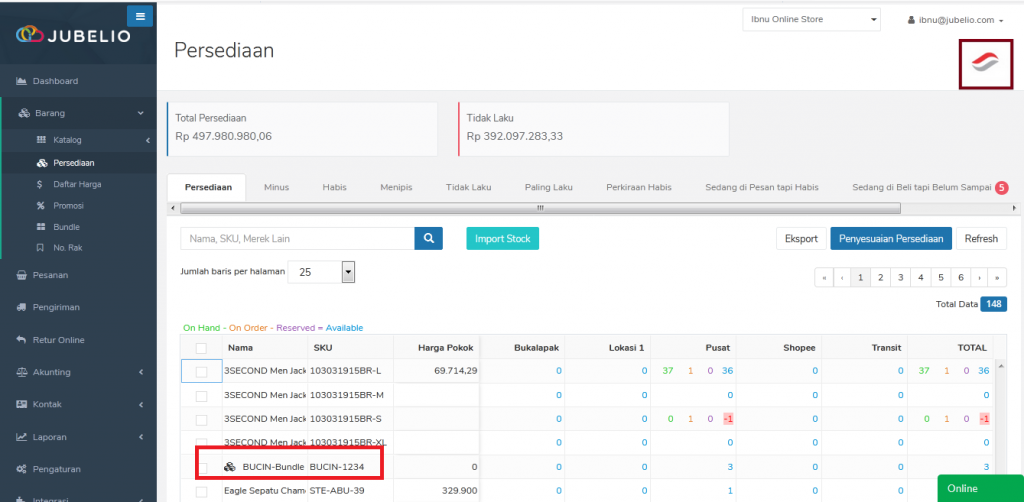 Hebat! Ada umpan balik lainnya?
Semakin banyak yang Anda beri tahukan kepada kami, semakin banyak hal yang dapat kami bantu.
Hebat! Ada umpan balik lainnya?