You are already familiar with SKU, a unique code attached to a product to identify the product. SKUs on products generally consist of several digits of letters and numbers as their identification code.
In addition to using SKU, you can also identify products with serial numbers and batch numbers. Pebisnis need to understand each of these components.
A serial number is a number assigned to each product unit (per unit/one product item) to distinguish one stock from another. Even though the product has the same type and size, it can have a different serial number.
Examples of the use of serial numbers are in electronic products and gadgets. One of the uses of the serial number is that you can control/monitor the end of the warranty period for each serial number that has been recorded.
The batch number indicates the group number of a mass-produced product. The batch number component also contains information on the product's expiration date.
For example, when you produce a large number of beverage products, let's say one million units. Then each mass-produced product will have the same group number.
In addition, there is usually a product expiration date in the batch number. Generally, products with a batch number are consumer goods such as food, beverages, milk, Etc.
Suppose you sell products with serial/batch numbers. In that case, you will need to make some settings and record each serial/batch number in inventory.
The data collection/recording starts from when creating a product catalog, when the stock enters the warehouse (receiving goods), to the process of taking goods during order fulfillment.
So to record the serial number or batch number in Jubelio, business people can do the following things:
Go to Pengaturan -> Persediaan section -> select No Batch / Serial.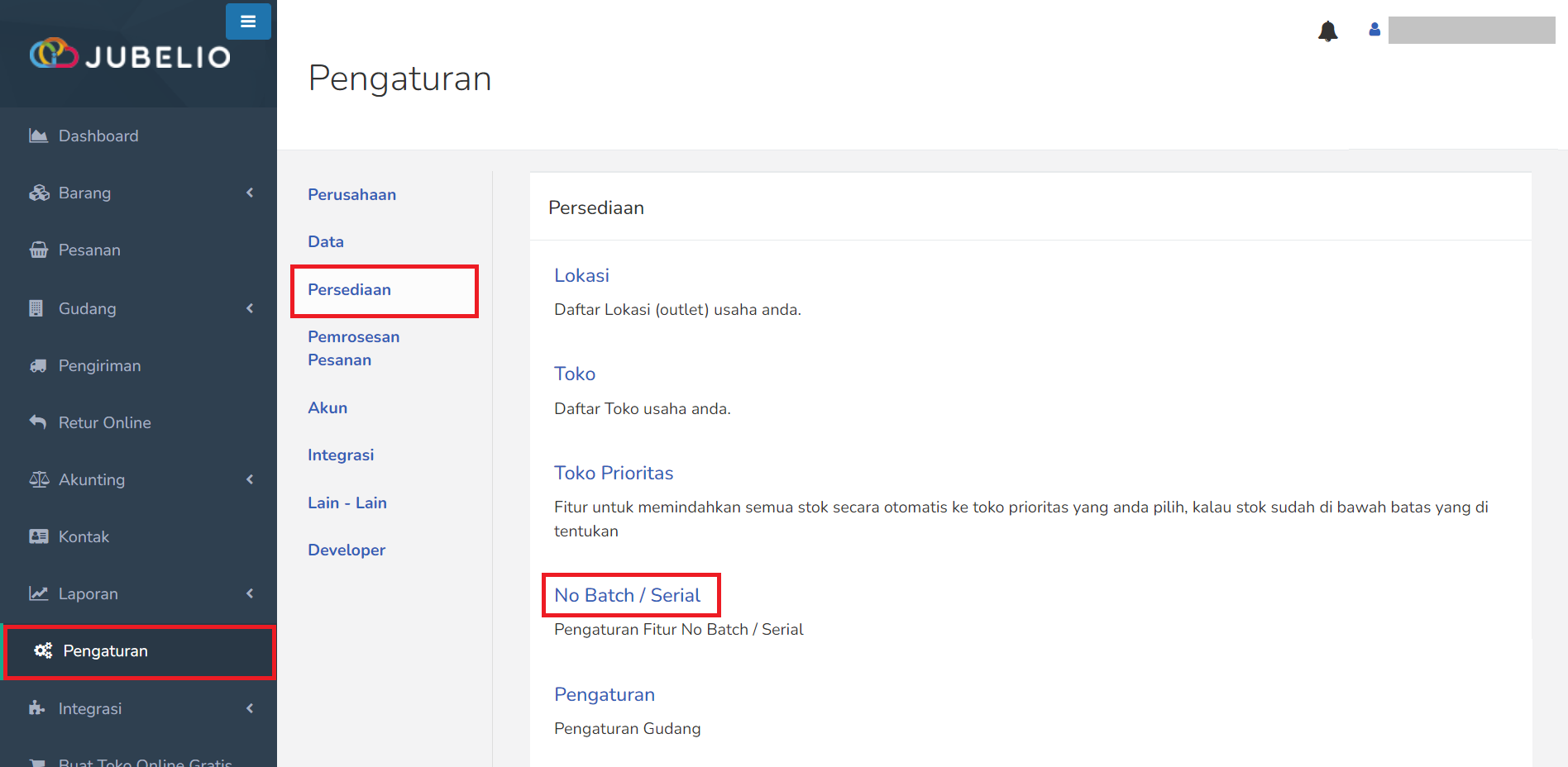 Activate the feature by clicking the toggle Gunakan Fitur Nomor Batch and or Gunakan Fitur Nomor Serial -> then click Simpan.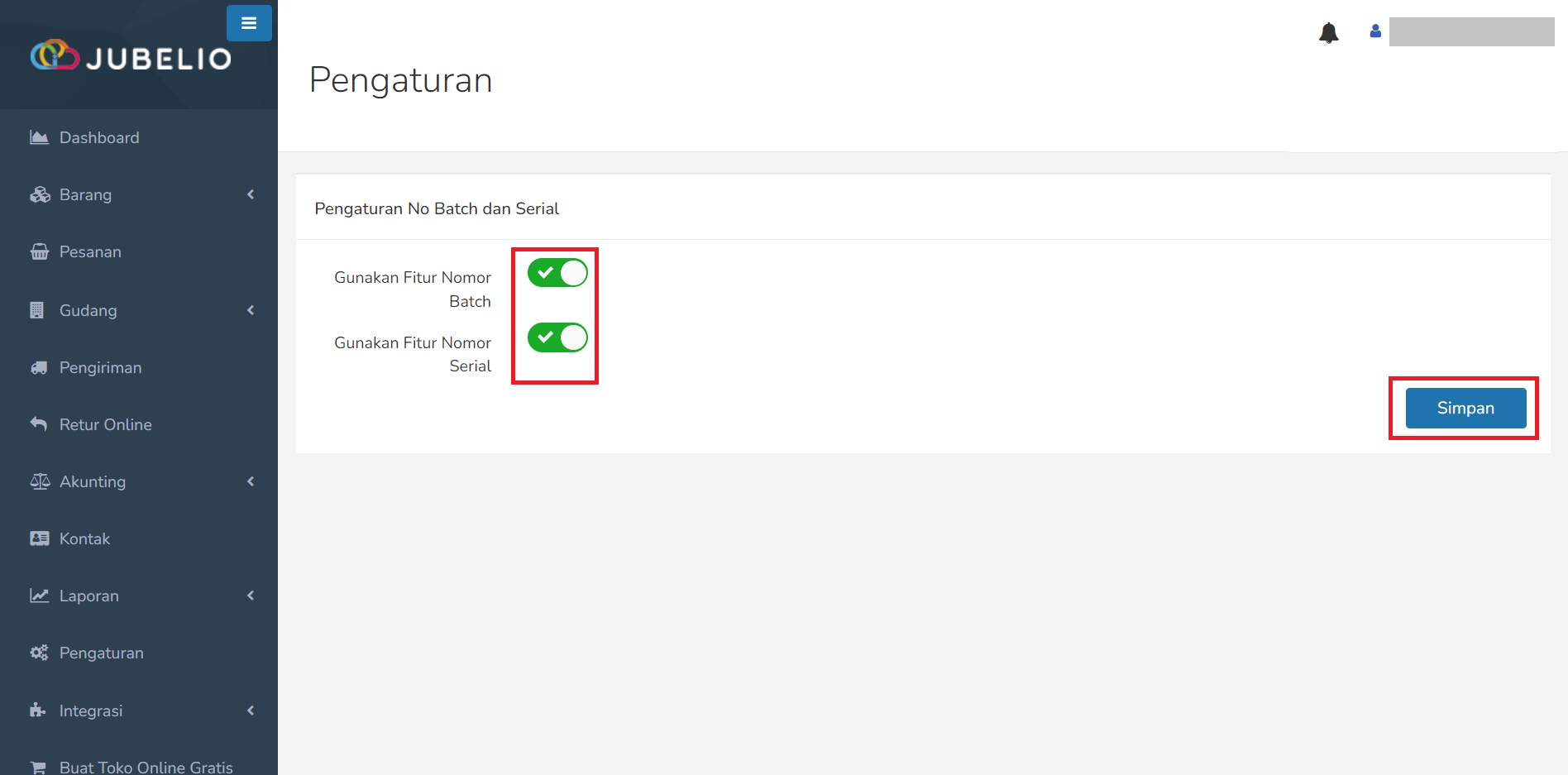 Go to the In Review/Master menu -> select the product you want to list as a serial/batch number.
In the Detail Barang section, click Barang ini memiliki serial no atau Barang ini memiliki batch no -> then click Simpan.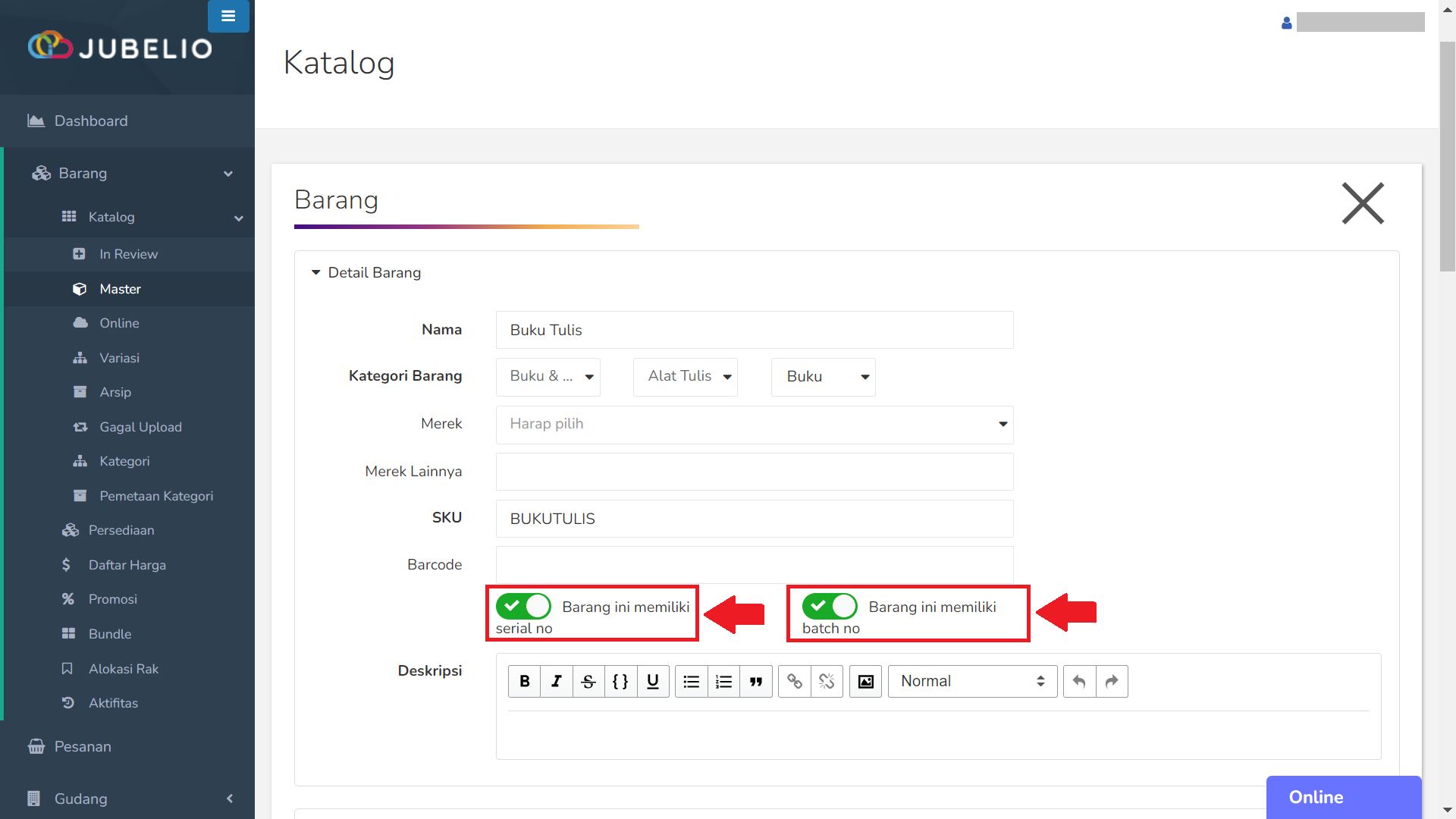 You can also do those settings when creating new product from Jubelio
Hebat! Ada umpan balik lainnya?
Semakin banyak yang Anda beri tahukan kepada kami, semakin banyak hal yang dapat kami bantu.
Hebat! Ada umpan balik lainnya?