A good catalog arrangement can benefit you by making it easier to read products, easy to find the products you search for, and increasing business operational efficiency.
In implementing business in various sales channels, business people are faced with several challenges, especially those related to Catalog Management. Some examples of obstacles faced by Pebisnis such as:
Before using Jubelio, business people upload products to each seller center sales channel. So when creating a new product at Jubelio using the Download from Online method, business people have two or more different product master catalogs.
Pebisnis create two or more different product master catalogs even though they can be created in 1 product master catalog.
To organize catalogs more efficiently, business people can use the Merge Catalog feature. Merge Catalog is a feature that combines two or more catalogs into one catalog. So that business people can carry out business operations (eg, upload products/cross-listings) in product catalogs efficiently.
The steps to join the catalog are as follows:
Go to the Barang menu -> In Review sub menu -> select the catalog you want to merge (as a slave catalog) -> click Gabung Katalog.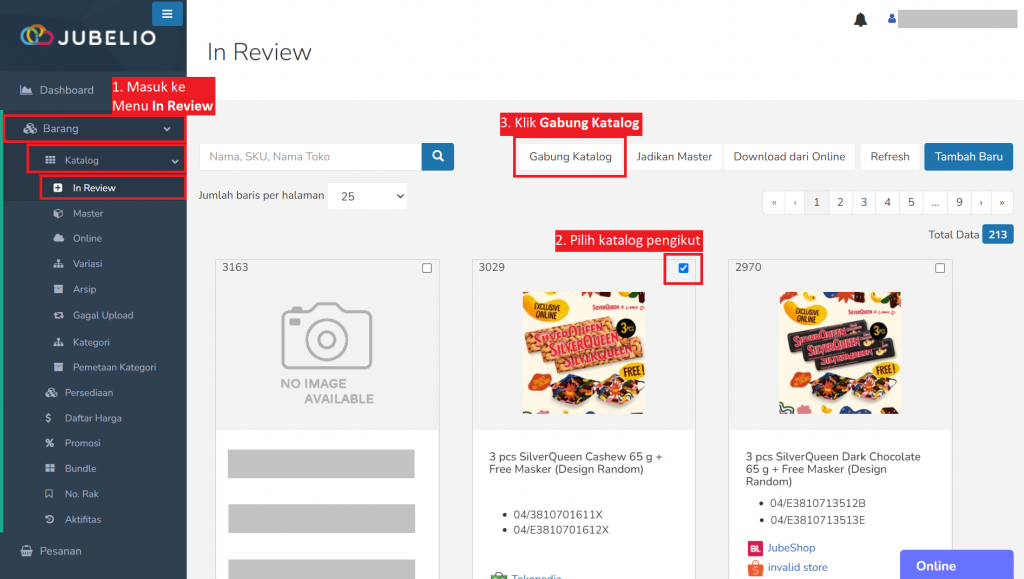 Select the destination catalog (as the main/master catalog) -> in the Gabung Katalog column, you can select all or part of the SKUs in the slave catalog to join or make it a master (separate catalog) -> click Simpan.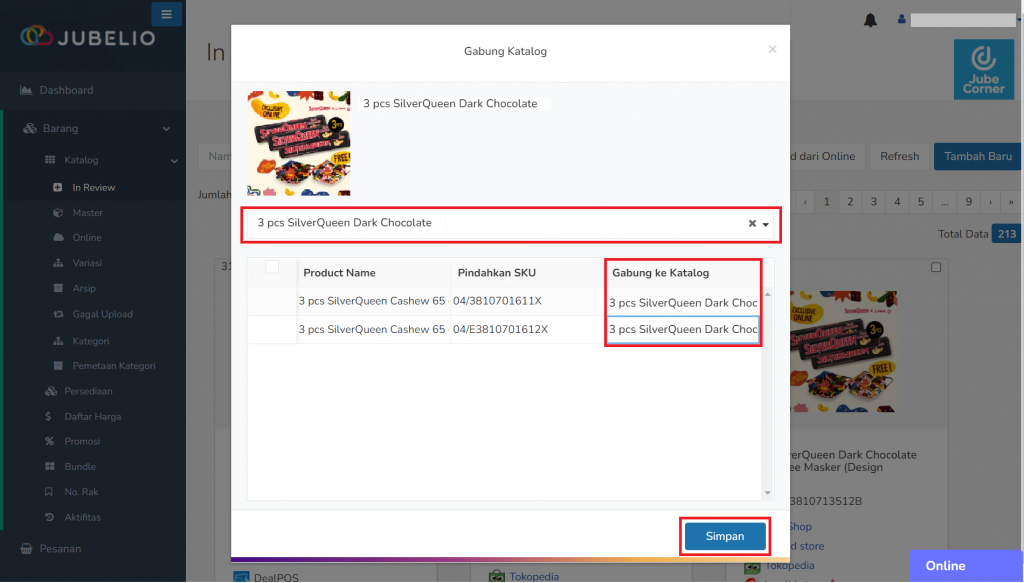 After successfully saved, you are advised to re-check the detailed product information that has been incorporated. By default, the detailed product information of the follower catalog will follow the details in the main (master) catalog, such as item description, item category, and others.
Notes
You can only use the Merge Catalog feature on product catalogs that have variations. Businesses cannot join catalogs if one of the catalogs does not have variations (be it the main catalog or the follower catalog).
Product information such as product categories will generally follow the main catalog in products that have never been uploaded to the sales channel.
When you join a catalog on a product that has been uploaded to the sales channel, the product information registered on the sales channel will remain as before.
Hebat! Ada umpan balik lainnya?
Semakin banyak yang Anda beri tahukan kepada kami, semakin banyak hal yang dapat kami bantu.
Hebat! Ada umpan balik lainnya?